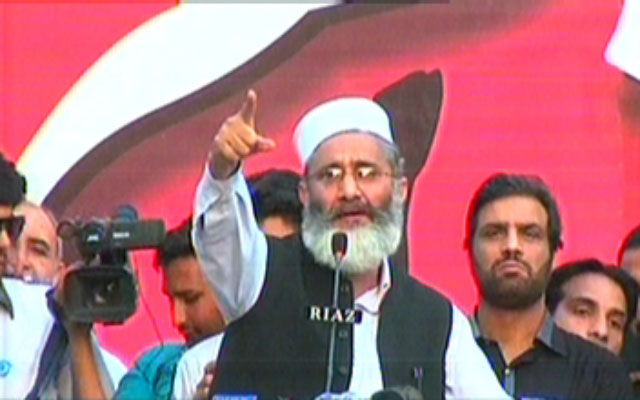 ---
Jamaat-e-Islami (JI) Ameer Sirajul Haq presented himself on Sunday for accountability in the wake of Panama Papers controversy and corruption accusations against Prime Minister Nawaz Sharif's family.

"I present myself and my team for accountability as I begin the fight against corruption from my own self," he said while addressing a sit-in at Mall Road in Lahore.

The JI chief also announced to hold countrywide protests against corruption from May 1.

A massive leak of 11.5 million tax documents on April 3 exposed the secret offshore dealings of world leaders and celebrities, also naming three of PM Nawaz's children for owning London real estate through offshore companies.

JI gearing up for street agitation once again

"Only JI can save Pakistan from the rampant corruption because we do not have any allegations or stigma of corruption against us," Sirajul Haq added.

Terming it as economic terrorism, he urged people who had gathered in the rally to raise their voice against growing corruption in the corridors of power.

"The rulers have not only failed us, they have destroyed the future of coming generations of this country."

The prime minister, the Ameer said, often boast about establishing Pakistan Steel Mills and asked him "why the employees of PSM have not been paid for months?"

Political terrorists, not Da'ish pose a threat to Pakistan: Sirajul Haq

Criticisng the performance of the National Accountability Bureau (NAB) and Federal Board of Revenue (FBR), the JI chief said both had failed to work for people.

"We had a lot of expectations from NAB. But now we ask them that how could they forgive the plunderers of this nation? Neither NAB nor FBR worked well," he said.

Taking a stand against the ruling Pakistan Muslim League-Nawaz (PML-N) after the Panama Papers revelations, the leader of the religious party said the incumbent rulers earned their money from Pakistan and invest it in foreign countries.

"They earn here in Pakistan and keep their wealth, assets in Panama. I am taken aback at the thought that poor children are dying in this country and the rulers are investing their money in Panama," he said.

'Pakistan will not be made a secular state'

Sirajul Haq also said the PM Nawaz would often say that Pakistan will be transformed into a liberal and secular state but his wish couldn't become a reality.

"The graves of Hazrat Ali Hajvery, Allama Iqbal and Maulana Abul Ala Maududi in this very city Lahore are the reasons that Pakistan cannot become a secular country," he said.

"Pakistan will remain to be an Islamic state and therefore a prosperous country," he added.
COMMENTS (1)
Comments are moderated and generally will be posted if they are on-topic and not abusive.
For more information, please see our Comments FAQ