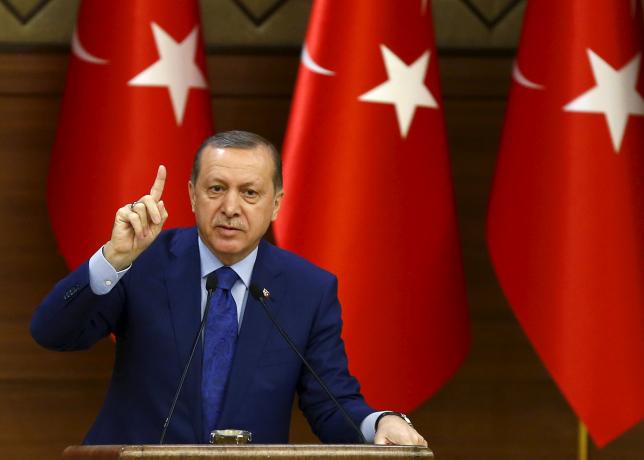 ---
GAZIANTEP, TURKEY: Turkey stood its ground over the contentious issue of visa-free travel for its citizens on Saturday, warning German Chancellor Angela Merkel and top EU officials it would stop taking back migrants from Europe if the bloc failed to keep its word.

"The issue of the visa waiver is vital for Turkey," Prime Minister Ahmet Davutoglu said at a joint news conference with Merkel, European Council head Donald Tusk and European Commission Vice President Frans Timmermans.

The leaders were in southeast Turkey for a high-stakes visit aimed at boosting a six-billion-euro ($6.7 billion) deal to return migrants arriving on Greek shores to Turkey. The deal has been plagued by moral and legal concerns.

Bilateral trade: Pak-Turkey to increase trade volume

If Ankara meets its side of the agreement, the European Commission has promised to recommend next month that EU states approve visa-free travel for Turks.

But there has been growing unease in Europe over fears that security concerns are being fudged to fast-track Turkey's application.

Davutoglu said the key to tackling the migrant crisis lies in "closer cooperation, and for us part of that closer cooperation is the visa liberalisation... Those two go hand in hand."

Merkel replied that she "intends to fulfill the agreement, provided Turkey brings the results" to the table. Ankara must meet 72 conditions to earn the visa waiver and is believed to have fulfilled about half.

Asked what Turkey would do if the EU tried to delay the visa part of the accord, Davutoglu said Ankara would stop taking back migrants.

"If that were to happen then the readmission agreement will also not enter into force," he said.

President Recep Tayyip Erdogan had already warned at the start of the week that the deal would fall through if the EU did not come through on visas.

Some 325 migrants have been returned to Turkey from the Greek islands since the agreement came into force on March 20, mostly from Pakistan and Afghanistan.

Women entrepreneurs jet off to Turkey

The deal has already sharply reduced the number of people crossing from Turkey to Greece, though the International Organisation for Migration (IOM) has said the numbers are "once again ticking up", possibly as smugglers get more creative.

Merkel, Tusk and Timmermans had earlier visited the Nizip 2 camp near Gaziantep on the Turkish-Syrian border, where they spoke to some of the 5,000 people, including 1,900 children, who live in rows of white and beige prefabricated houses.

The European leaders were keen to show how funds are helping Turkey improve conditions for the 2.7 million refugees the country is hosting -- though critics have pointed out the majority live in poverty far from the official camps.

They inaugurated an EU-funded child protection centre, receiving gifts from children, and seemed keen to keep their ally in the migrant crisis sweet, with Tusk saying Turkey was "the best example for the whole world" on how to treat refugees.

Judith Sunderland, Human Rights Watch's acting deputy director for Europe, had earlier said that instead of "touring a sanitized refugee camp", Merkel "should go to the detention centre for people who were abusively deported from Greece".

Merkel said she had talked with Davutoglu about creating "safe zones... along the Turkish-Syrian border", saying it "has to be of the utmost immediate importance also in our negotiations for a ceasefire" in the conflict-hit country.

Sufism: Expressing Rumi's thought by painting whirling dervishes

Many in Europe had been watching closely to see if the delegation would take a stand against the deterioration of rights in Turkey.

Tusk had set the tone for a confrontational visit on Friday, when he insisted "our freedoms, including freedom of expression, will not be subject to any political bargaining. This message must be heard by President Erdogan."

But the leaders refused Saturday to be drawn, with Merkel saying simply that they had "talked frankly" about it.

"We have always underlined... that values like freedom of the press of freedom of expression are for us inalienable", she said.

Turkish scholars and journalists, who have criticised government policies on Kurds and Syria, are on trial accused of betraying the state in cases that have sounded alarm bells over growing restrictions on free speech under Erdogan.

Merkel has drawn heat for allowing a German comedian to be prosecuted for a crude poem about the Turkish leader.

She was taunted Friday by one of the reporters on trial, Can Dundar, editor in chief of an opposition newspaper, who wrote an open letter saying Germany was "on the wrong side" and asking: "Will you again pretend there is no repression here?"