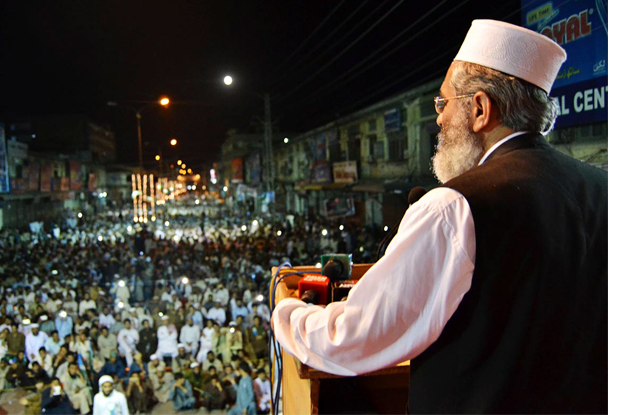 ---
PESHAWAR: Jamat-e-Islami central ameer Sirajul Haq rejected on Saturday the terms of references sent by Prime Minister Nawaz Sharif to the judicial commission for investigating his and other offshore assets uncovered by the Panama Papers. He also demanded that the inquiry should be limited to PM and his family.

He said that ToRs should be finalised after consultation with all political parties in the opposition or else the JI would not accept it.

Addressing party workers at Khyber Bazaar, Peshawar, he and his party leadership took a swipe at the prime minister for accumulating massive wealth abroad.

Siraj said that PM's name was on the list of leaders who have offshore businesses and his sons have confessed to it.

"If you (the prime minister) are not willing to bring his capital to his country, how can you ask foreign investors to invest in Pakistan as there are bright opportunities of businesses," he said.

He said that accumulation of his wealth abroad was a clear warning to the investors to stay away from Pakistan.

JI ameer said that the prime minister and his family own assets worth billions but pay taxes in thousands and this tax evasion has bankrupted state institutions.

"Finance minister Ishaq Dar, on the floor of the house, confessed that Pakistan has taken loans worth Rs18,000 billion. Let me ask you, where the loans have gone who ate it," he said.

He also appealed the parties to conduct inquiries against their leadership and throw out corrupt leaders out of their ranks.

Published in The Express Tribune, April 24th, 2016.
COMMENTS (1)
Comments are moderated and generally will be posted if they are on-topic and not abusive.
For more information, please see our Comments FAQ