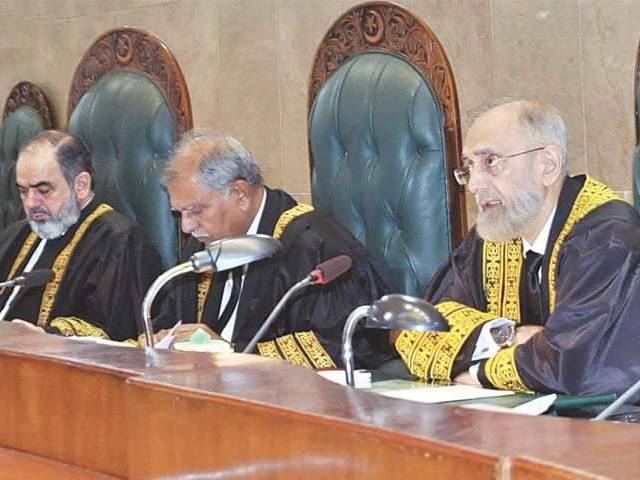 ---
ISLAMABAD:



After the military's action against corrupt officers, the top judiciary of the country also looks set to expedite the accountability process within its institution.




The Supreme Judicial Council (SJC) – a panel which can recommend action against erring superior court judges – has summoned a complainant over his plea against a serving high court judge, whose name has been mentioned in the Panama Papers.

Former bureaucrat Nazar Muhammad Chohan confirmed on Saturday that his counsel received a call from the SJC Secretariat to appear before the panel of judges on April 28.

Talking to The Express Tribune, he said the secretariat had asked him to provide an affidavit on stamp paper and summoned him for verifying the complaint.

Chohan believes the council summons the complainants rarely and, therefore, his appearance before the SJC is significant.

The petitioner had filed the complaint through his counsel Barrister Javed Iqbal against a high court judge, who has been named in Panama Papers for owning offshore companies. The plaintiff also attached 25 documents with his complaint.

The SJC is a body of judges empowered under Article 209 of the Constitution to hear cases of misconduct against top judges. A judge belonging to the superior judiciary can only be removed on the recommendations of the council.

In September last year, CJP Anwar Zaheer Jamali in his first speech after taking oath of his office had vowed to make the SJC effective. No superior court judge has been ousted by the council since the 1970s.

Under the law, if the council reports to the president that a judge is incapable of performing his duties or has been guilty of misconduct, the president may remove the judge from office. During the tenure of the current chief justice, the council has already held a couple of meetings to listen to grievances against judges. In some cases, further proceedings have already been initiated.

Earlier on Friday, Sindh High Court Chief Justice Sajjad Ali Shah sounded out a clear warning to all corrupt elements in the judiciary to mend their ways or be ready for accountability.

The Pakistan Bar Council has also urged the chief justice for holding frequent meetings of the SJC for considering and deciding the pending references against superior courts' judges.

While talking to The Express Tribune, PBC Vice-Chairman Farogh Nasim said time had come the superior judiciary gave momentum to the process of self-accountability.

According to the SJC procedure, any information of misconduct of a judge received by any member or the council is presented to the council's chairman, who shall: (a) refer it to any member of the council to investigate; and (b) express his own opinion on the complaint..

If the information is determined to be false, frivolous, concocted or untrue, the council can also recommend action against the petitioner as well.

Published in The Express Tribune, April 24th, 2016.