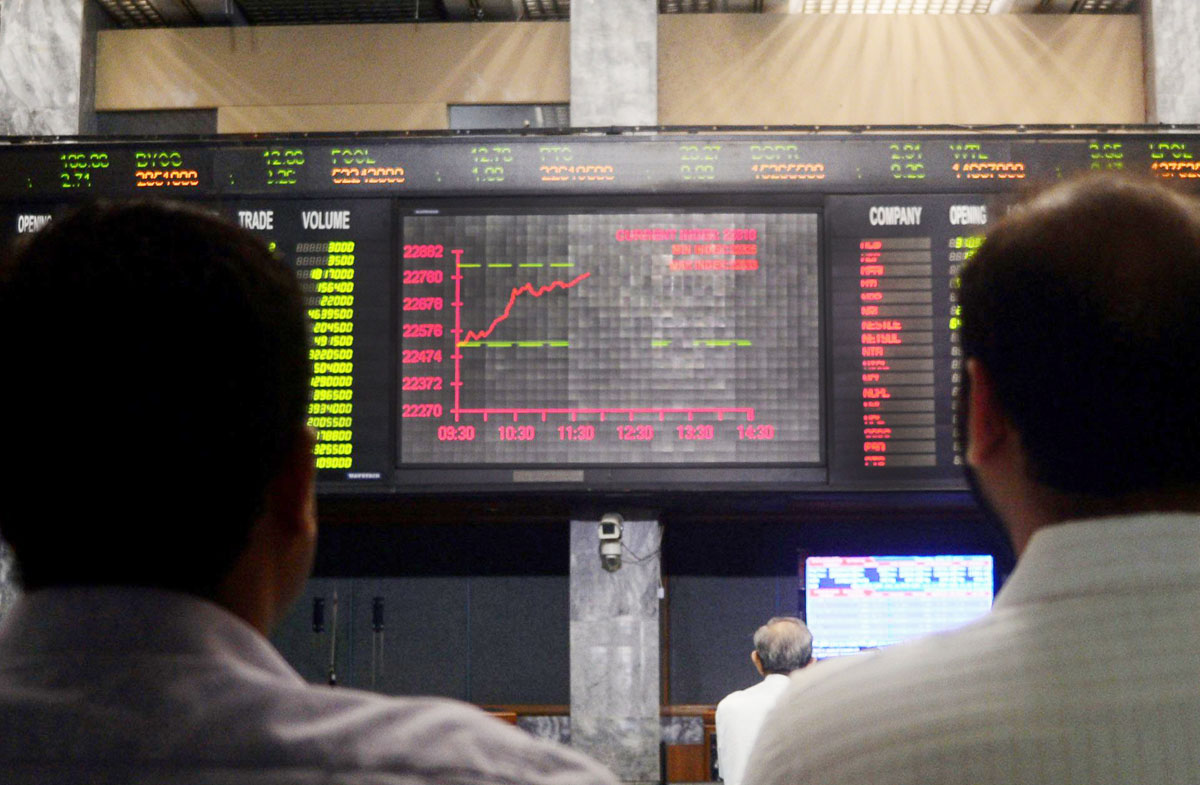 ---
KARACHI:



The stock market remained range-bound throughout the week as an uncertain political climate resulted in volatility in the benchmark KSE-100 index, which shed 27 points (0.1%) to close at 33,739 at end of trading on Friday.




Politics was the major driving force at the bourse this week as government remained under pressure due to the Panama Leaks controversy. The rise in oil prices provided a boost to the market, but heavy profit-taking in the cement and fertiliser sectors neutralised those gains and kept the KSE-100 index at bay.

The week started off on a positive note as global crude oil prices remained on the upswing throughout the week. However, announcements of below expectations results coupled with the failure of oil producers to agree on a production cap kept the market under pressure for the following days.

The major bombshell of the week came on Thursday when news emerged that the Pakistan Army had dismissed 6 ranking officers on charges of corruption. The news sent shockwaves through the bourse and led to panic selling by locals and foreigners. A strong end to the week saw the KSE-100 index close just 25 points down from its closing in the previous week.

With the government already under pressure by opposition regarding the Panama Leaks controversy, the Chief of Army Staff (CoAS) announced mid-week that all-around accountability was needed for the prosperity of the county. The following day it was revealed that the CoAS had dismissed 6 ranking officers from the army on charges of corruption.

The news signaled to investors that the country's powerful army would take all necessary steps to challenge corruption and with the country's prime minister at the center of the Panama Leaks controversy, it could result in the toppling of the government. The news led to major panic selling on Thursday, wiping off the gains made earlier during the day.

The oil and gas sector performed strongly during the week, despite talks breaking down between oil producers over a freeze in output. A minor correction in oil prices was followed a strong rally which saw crude oil prices hit $45 per barrel. As a result, the sector contributed the most to the KSE-100's gains.

The oil sector's gains were offset by profit-taking in the cement and fertiliser sectors, which were the main victims of foreign selling on Thursday. Disappointing earnings announcements by Cherat Cement and Fauji Fertilizer Bin Qasim did not help their respective sectors' cause and kept them under pressure throughout the week.

Foreigners were net sellers during the week and offloaded net equity worth $28.3 million during the week, as opposed to net selling of $1.5 million in the previous week.

Average daily volumes continued to impress and were recorded at 239.3 million shares per day, a 25.7% jump over the previous week. Similarly, average daily values also rose 16.7% to Rs10.1 billion per day. The Pakistan Stock Exchange's market capitalisation stood at Rs6.99 trillion ($66.5 billion) at the end of the week.

Winners of the week

Bannu Woollen




Bannu Woollen Mills Limited manufactures and sells woollen yarn, cloth and blankets.

Sui Northern Gas Pipelines




Sui Northern Gas Pipelines Limited purchases, purifies, transmits, distributes and supplies natural gas, in addition to marketing liquefied petroleum gas.

Hum Network Limited




Hum Network Ltd operates satellite television channels. The company operates a channel targeted primarily at women, one about food and one that covers lifestyle and entertainment.

Losers of the week

Fauji Fertilizer Bin Qasim




Fauji Fertilizer Bin Qasim Limited manufactures, purchases and markets fertilisers. The company produces Granular Urea and DAP. Fauji Fertilizer provides its products to farmers in Pakistan.

JDW Sugar




JDW Sugar Mills Ltd produces and sells crystalline sugar. The company is located in District Rahim Yar Khan and formerly
named United Sugar Mills Limited.

PTCL




Pakistan Telecommunication Company Limited provides fixed line domestic and international telephone services, telex, telegraph, fax and leased circuit services in Pakistan. The company owns all public exchanges, the nationwide network of local telephone lines, principal long distance transmission facilities and international telephone gateways in Pakistan.

Published in The Express Tribune, April 24th, 2016.

Like Business on Facebook, follow @TribuneBiz on Twitter to stay informed and join in the conversation.