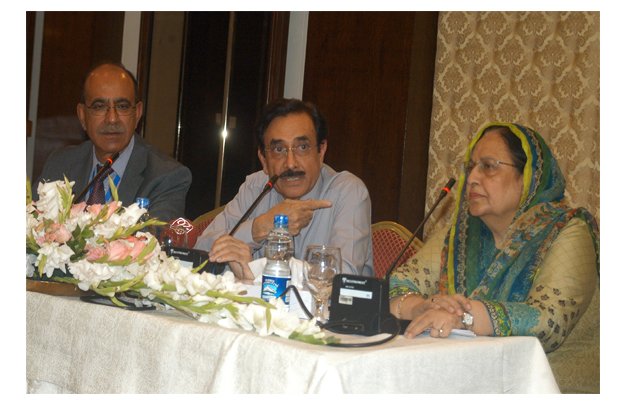 ---
ISLAMABAD: Though Pakistan has made tremendous strides in its immunisation programme, around 30 per cent of population was still missing out on basic vaccines.

Similarly, 27 per cent of deaths of children aged five years and below occur due to vaccine-preventable diseases.

Representatives of the Paediatric Association of Pakistan (PAP) said this while addressing a press conference on Saturday on the eve of the World Immunisation Week, starting from April 24.

They said that Pakistan made tremendous successes in eradication of some vaccine preventable diseases despite scarcity of resources, but the achievements are not up to the mark.

" World Immunisation Week stresses that parents need to be educated about importance and availability of vaccines at EPI centres to get their children vaccinated," Shifa International Hospital Consultant Paediatrician Dr Musarrat Hussain said.

He said that immunisation was a proven tool for controlling and eliminating life-threatening infectious diseases and it was one of the most cost-effective health investments.

"Vaccines protect children by preparing their bodies to fight many potentially deadly diseases. Vaccines are responsible for controlling infectious diseases such as smallpox, polio, measles, diphtheria, whooping cough, rubella, mumps, tetanus, and haemophilic influenza, which were once common around the world," Dr Musarrat said.

"Immunisation is one of the most successful and cost-effective health interventions and prevents around two to three million deaths every year," he said.

Paediatricians said that inclusion of the rotavirus vaccine in the Extended Programme for Immunisation (EPI) programme was a commendable step taken by the health ministry. They, however, said that out of 12 anti-infection vaccines, only nine have been included in the EPI programme and stressed that more vaccines should be included in it.

Islamic International Medical College and Rifah International University head of paediatric department Dr Samiya Naemullah said that every year, globally, pneumonia kills an estimated 1.2 million children under the age of five which was more than the deaths caused by AIDS, malaria and tuberculosis combined.

She said two billion people around the world were infected with hepatitis-B virus and about 780,000 people die every year and this could be prevented through vaccination.

"Without vaccines, epidemics of many preventable diseases could return, resulting in increased - and unnecessary - illness, disability and deaths," she said.

Consultant paediatrician at Shifa International Hospital Dr Mazhar Hussain Raja said that vaccination resulted in a 75 per cent drop in measles deaths between 2000 and 2013 worldwide, while illnesses and complications caused by influenza could be reduced by up to 60 per cent and deaths by 80 per cent in elderly patients.

Published in The Express Tribune, April 24th, 2016.