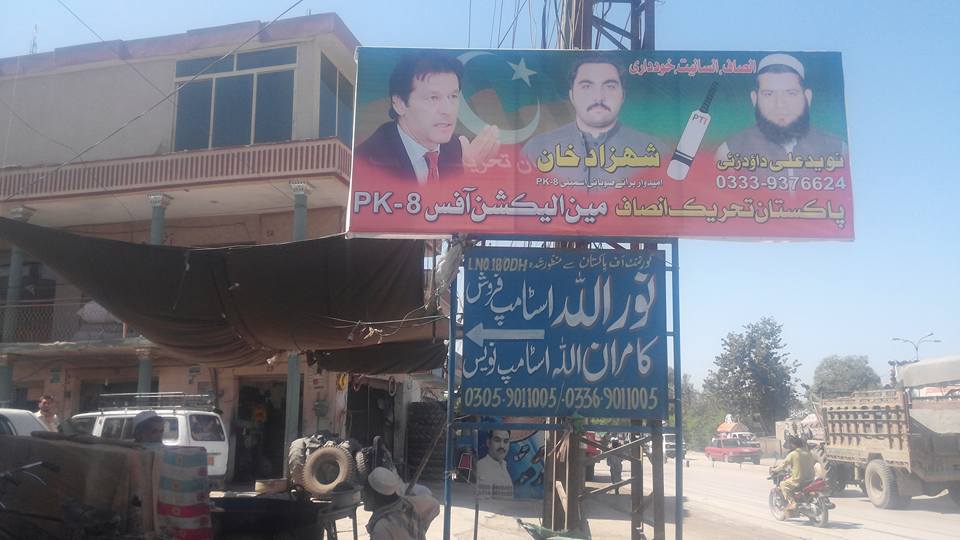 ---
PESHAWAR: As candidates for PK-8, Peshawar-VIII start campaigning in earnest, they have invested in towering billboards, hoardings that easily exceed the size specified by the Election Commission of Pakistan.

Independent candidate Fayyaz Ali Noor has registered a complaint with the ECP and Supreme Court of Pakistan to take action against such violations of the code of conduct.

He told The Express Tribune, according to Article 218 (3) of the Constitution of the Islamic Republic of Pakistan and Supreme Court of Pakistan through its judgment dated June 8, 2012 passed in Constitution Petition No 87/2011, all political parties including JUI-F, PPP, PTI, ANP and PML-N had violated the code of conduct. Noor said according to the notification dated March 31, a clause under the heading of "election campaign" stated no person or political party shall affix anything larger or bigger than two feet by three feet posters, three feet by five feet hoardings, three feet by nine feet banners and nine inches by six inches leaflets/handbills.

Noor said billboards exceeding the size specified by ECP have been displayed by political parties in the constituency which clearly violates the code of conduct. He requested ECP and Supreme Court of Pakistan to ensure free and fair elections and take against those who had violated the rules.

When contacted, Regional Election Commissioner Peshawar Pir Maqbool Shah said they have not received any complaint so far and when they do, action will be taken against those violated any rules.

Late to the party

Shah said all preparation for the PK-8 by-polls had been completed and monitoring committees which will observe preparation for elections will be constituted in a day or two. In reply to a question, he said monitoring committees will check billboards and if any of them are found to be exceeding the given size, they will be removed and the candidate responsible will be charged.

The backdrop

According to the ECP, seven political and 11 independent candidates, are in the race for the PK-8 seat which was vacated when Pakistan Muslim League-Nawaz MPA Arbab Akbar Hayat Khan died of cardiac arrest on March 17.

The elections will be held on May 12 and ECP has allotted election symbols to Asif Iqbal Daudzai from JUI-F, Arbab Muhammad Waseem Khan from PML-N, Arbab Meer Afzal Khan from PML-Q, Ijaz Ahmad from ANP, Malik Tehmash Khan from PPP, Shehzad Khan from PTI and Hussain Shah from Tehreek-e-Tahaffuz-e-Pakistan. Independent candidates include Anwar Gul, Khalil Anwar, Shah Jehan Khan, Tariq Khan, Sarwar Khan, Alamgir Khan, Fida Muhammad, Muhammad Dawat Khan, Fayaz Ali Noor, Muhammad Yousaf Khan and Muhammad Haji Ahmad.

Published in The Express Tribune, April 24th, 2016.
COMMENTS
Comments are moderated and generally will be posted if they are on-topic and not abusive.
For more information, please see our Comments FAQ