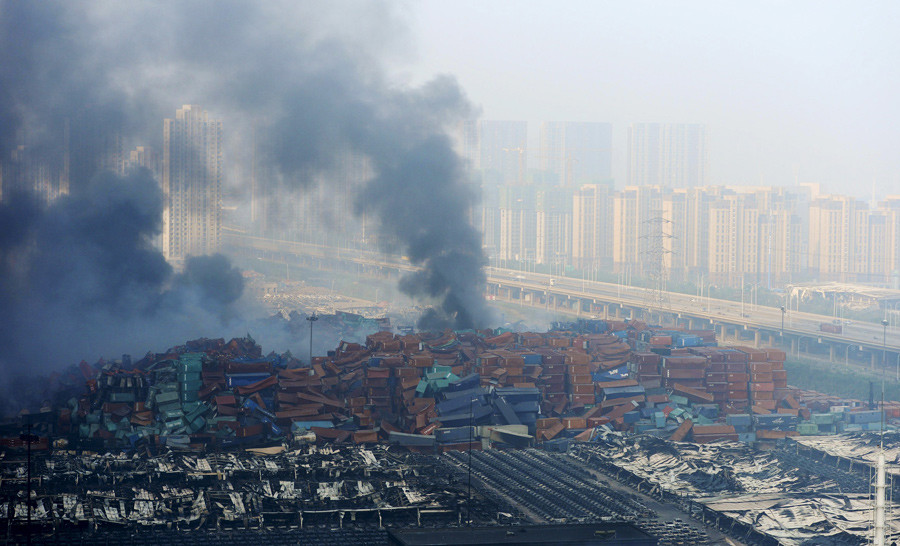 ---
BEIJING: A fire caused by an explosion at a chemical and fuel storage facility in the Chinese city of Jingjiang may affect thousands of nearby residents as well as key environmental resources, activists said Saturday.

The initial blast Friday morning recalled huge explosions caused by improper storage of chemicals in the northern city of Tianjin last August, which killed at least 165 and raised fears of toxic contamination.

The blaze, which took place in the eastern province of Jiangsu, raged for 16 hours before it was extinguished early Saturday morning, the official Xinhua news agency said.

Though no casualties have yet been reported, about 15,000 people live within five kilometres (three miles) of the blast site, which is also close to two drinking water and three ecological protection areas, Greenpeace said in a statement.

China chemical blaze put out after 16 hours

Located next to the Yangtze River, the facility stored up to 56 chemicals categorised as "hazardous" by the government, it added, calling the incident "yet another example of the worrying lack of oversight and management of China's chemical industry".

"The government must urgently investigate the dangers hazardous chemicals in China pose to people and the environment and act to prevent these all-too-common incidents from occurring again," its East Asia toxics assistant manager Cheng Qian said.

The incident took place on the premises of a company called Jiangsu Deqiao Storage, which is authorised to keep hazardous chemicals and fuel, reports said. Its parent is a Singapore-listed company called Hengyang Petrochemical Logistics.

Photos and videos of the accident posted online showed an enormous pillar of black smoke towering above orange flames.

Some 400 firefighters were mobilised to fight the flames, fed by petrol storage tanks on the site, the fire department under the Ministry of Public Security said on its microblog.

Many were brought in from the neighbouring cities of Shanghai, Nanjing, Nantong, Suzhou and Wuxi, Xinhua said.

They initially had difficulty approaching the blast site because the contents of destroyed chemical storage tanks had spread over a wide area, but were eventually able to curb the fire once an oil pipeline was shut off, it added.

Industrial accidents are common in China where safety standards are often lax.

But the massive blast in Tianjin, which caused over $1 billion in damages, sparked widespread anger over a perceived lack of transparency by officials about its causes and environmental impact.

The findings from a government inquiry into the Tianjin accident released in February recommended 123 people be punished.