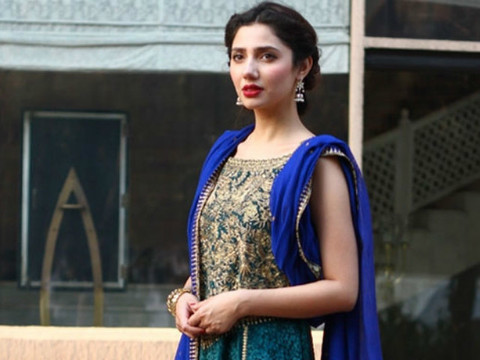 ---
All eyes are set on Mahira Khan as she will soon be making her grand Bollywood debut opposite none other than Shah Rukh Khan.

But did you know she is "very nervous" about the release of her film Raees?

"I am so nervous. I don't think I have been this nervous for anything ever. There is so much hype and there is so much responsibility that I carry from Pakistan," she said during a recent interview with NDTV.

"Recently, some journalist in India asked me, very casually. 'How are you planning to even come close or match up to Shah Rukh Khan and Nawazuddin Siddiqi' and I was like 'Oh My God, I never thought of this one before. So, yes I am nervous," she added.

I miss her, says SRK about Mahira

When asked if there was a difference between the Pakistani film industry and Bollywood, the Humsafar star said, "Ofcourse, there was a huge difference. The biggest one being that I was acting opposite Shah Rukh Khan."

"That was the number one striking difference because here [in Pakistan] I was bossing the boys around on my set and there [in India], I am standing with Shah Rukh Khan and thinking 'Oh my God, what am I going to do now.' I was shocked and very nervous," she said.

Mahira Khan sure knows how to make SRK jealous

Although Mahira was reluctant to share details about her experience of working with SRK, saying she would talk about it near the release of Raees, she did say, "It was surreal to say the least. I don't know if I could really talk about acting opposite him. It was such a great learning process for me."




The VJ-turned-actor also disclosed that Bollywood has taught her how to dance freely.

"I danced in Ho Mann Jahaan after I came back (from India) so you see a vast difference between my first dance which was in Bin Roye and Shakar Wadaan, which became really popular."

Mahira questions Pakistan's obsession with fair complexion

"I danced khul ke and the credit goes to me being in India, the choreographers, my director and Shah Rukh of course."




Answering a question regarding what roles she would like to play in the future, Mahira said that she likes old Hindi cinema. "I am a big, big fan of Guru Dutt and Pyasa, so I would have loved to do that. I want to once in my life. I am also a big fan Meena Kumari, Rekha and Madhubala, I have a 'buddhi rooh' inside me. So, I would love to do Pakeezah and Umrao Jaan."