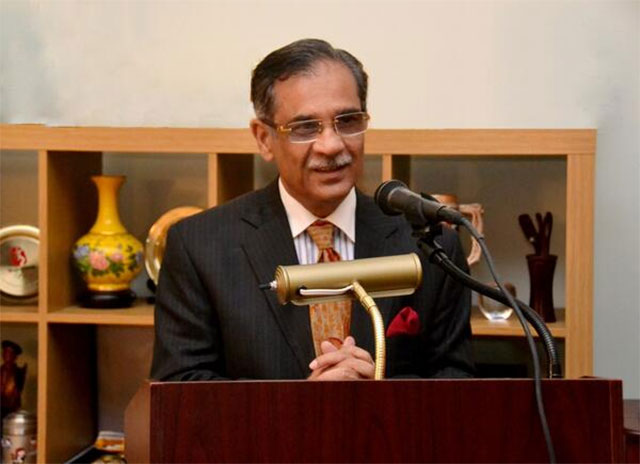 ---
ISLAMABAD: Supreme Court (SC) Justice Saqib Nisar on Saturday took oath as the acting Chief Justice of Pakistan in Islamabad, on the account of CJP Anwar Zaheer Jamali's seven-day official visit to Turkey.

Following the oath taking ceremony, CJP Nisar told the media that despite his post, he does not have the authority to respond to the government's letter, requesting the CJP to form an inquiry commission under broad-based terms of references (ToRs) to settle the Panama leaks controversy.

Govt announces 'open-ended' inquiry

"Chief Justice Jamali will take a decision about the formation of the commission after his return from Turkey," the acting chief justice said while addressing the media.

According to reports, CJP Jamali is likely to return to Pakistan on May 1.

Speaking at the occasion, SC Justice Dost Muhammad Khan said, "The government in its ToRs has widened the scope of investigation," adding that "It is the entire nation's demand to form a commission."

Almost three weeks after the leaks revealed that the prime minister's three children were among dozens of influential people from across the globe having offshore companies in tax havens, the government sent a letter to the Supreme Court registrar, requesting chief justice of Pakistan to form an inquiry commission under broad-based ToRs.

Panama Papers probe: Will go home if the charges stick, says Nawaz

"It is requested that the honourable Chief Justice of Pakistan may kindly nominate appropriate number of honourable judges of the Supreme Court as members of the commission, preferably with honourable chief justice himself as its president," read the letter sent to the apex court's registrar by the law ministry.

The move was announced by Premier Nawaz Sharif in his second address to the nation on the matter. In his earlier address, the PM had denied any wrongdoing and offered to form a commission under a former judge – an offer that was rejected by the opposition.