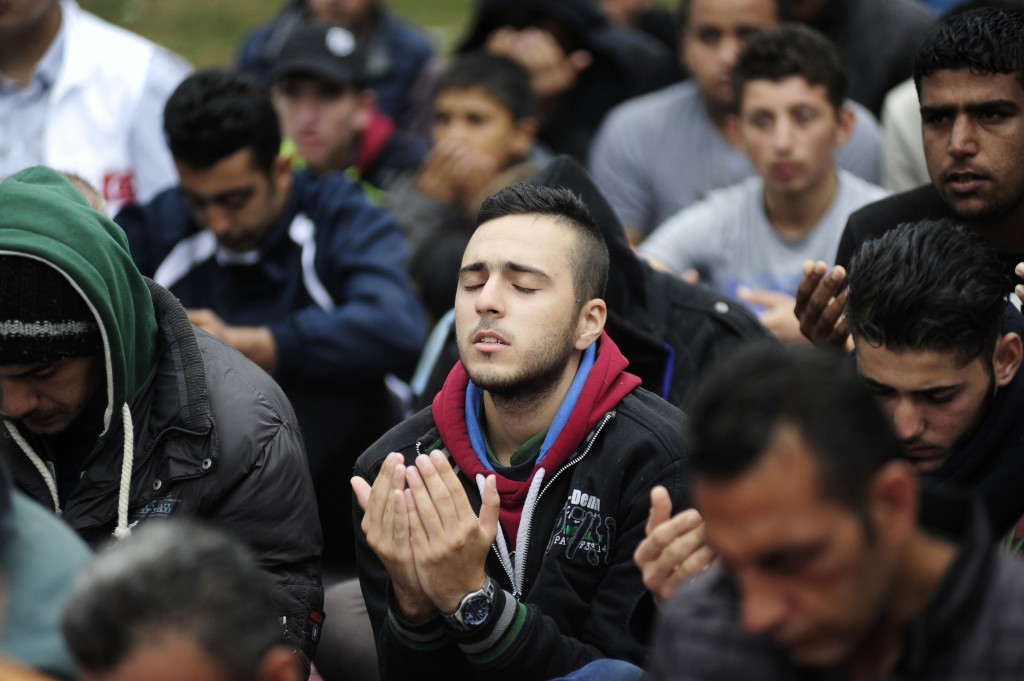 ---
ISTANBUL: Angela Merkel and top EU officials travel to Turkey on Saturday for a high-stakes visit which will see them walk a diplomatic tightrope between keeping Ankara sweet over a crucial migrant deal and taking a stand on European values.

European Council head Donald Tusk, European Commission Vice President Frans Timmermans and the German chancellor will visit a refugee camp at 1100 GMT in Gaziantep on the Turkish-Syrian border.

Turkey will ditch migrant deal if EU breaks promises: Erdogan

They hope to boost a month-old, six-billion-euro ($6.7 billion) deal to return migrants arriving on Greek shores to Turkey which has been slow to get off the ground and plagued by a flurry of moral and legal concerns.

Diplomatic relations are strained following President Recep Tayyip Erdogan's warning that the deal to curb the migrant flow to Europe would fall through if the EU did not keep up its end of the bargain by allowing visa-free travel for Turkish citizens.

The bloc promised to present a visa recommendation next month if Ankara complies with its side of the accord, but there has been growing unease in Europe over fears that security concerns are being fudged to fast-track Turkey's application.

"The trip comes at a critical juncture in the implementation of the deal," Sinan Ulgen, visiting scholar at Carnegie Europe, told AFP, pointing out the EU has not secured the backing of all member states, while Turkey has yet to meet all the criteria.

He said the leaders would likely use the visit to explore "whether there is room to postpone or modify the visa commitment without there being a collapse in good will," possibly by limiting the offer to categories such as students and businesspeople.

Turkey rejects Amnesty claims over 'forcibly returning' Syrians

The European leaders are expected to meet with refugees and visit a child protection centre before giving a joint press conference with Turkey's Prime Minister Ahmet Davutoglu and retiring behind closed doors for talks.

Many in Europe will be watching closely to see if the delegation takes a stand against the deterioration of rights.

Tusk set the tone for a confrontational visit on Friday, when he insisted "our freedoms, including freedom of expression, will not be subject to any political bargaining. This message must be heard by President Erdogan."

His comments were published as Turkish scholars and journalists stood trial in Istanbul accused of betraying the state.

The cases have sounded alarm bells over the growing restrictions on free speech under Erdogan and increased pressure on Merkel to show more spine after allowing a German comedian to be prosecuted for a crude poem about the Turkish leader.

She was taunted Friday by one of the reporters on trial, Can Dundar, editor in chief of an opposition daily, who wrote an open letter saying Germany was "on the wrong side" and asking: "Will you again pretend there is no repression here?"

Turkey approves agreement to repatriate Pakistani migrants

Merkel has said the Turkey visit is a chance to take stock of the implementation of the migrant deal and discuss the next steps, as well as evaluate conditions on the ground for those who have fled the devastating five-year war in Syria.

Amnesty International on Friday urged the European delegation not to "close their eyes to the catalogue of human rights abuses faced by refugees" in Turkey, repeating claims it had documented Syrians being shot at by Turkish soldiers.

The European Commission has also urged Ankara to do more to improve conditions for those fleeing the conflict.

But Tusk warned critics that whatever the downsides, the alternative to the deal was worse, because a failure to address the migrant crisis "could lead to a temptation to blackmail Europe"
COMMENTS
Comments are moderated and generally will be posted if they are on-topic and not abusive.
For more information, please see our Comments FAQ