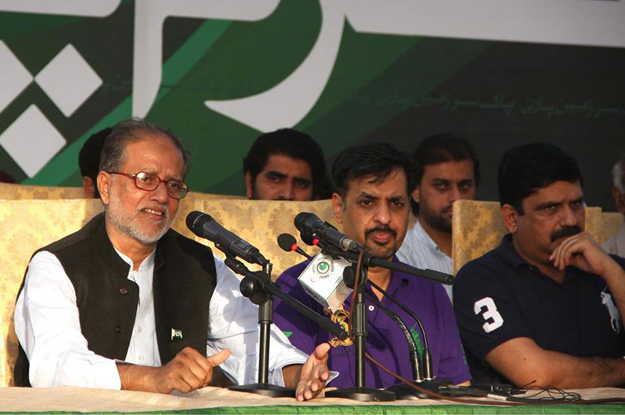 ---
KARACHI: Mustafa Kamal has managed to rope in another lawmaker from Sindh into his political party but spared his archrival Muttahida Qaumi Movement this time.

Pakistan Tehreek-e-Insaf's Syed Hafeezuddin joined Pak Sarzameen Party on Friday, becoming the latest member of the recently launched party of Karachi's former mayor. All previous PSP members had been MQM dissidents.

Hafeezuddin along with a number of supporters joined hands with Kamal at a press conference held in Bagh-e-Jinnah near the Quaid-e-Azam mausoleum.

Addressing the media, he said it had become impossible for him to continue being a part of a legislative assembly, which had been doing nothing for its voters. "The only possible way of bringing real change to the system is through the PSP," he believed.

Hafeezuddin, who won his seat from the PS-93 Karachi constituency, said he was leaving the Imran Khan-led PTI as its local affairs were being looked after by inexperienced people, who always misguided the party chief.

"I pointed out the loopholes in the party policies during our meetings but no one paid heed to my suggestions," the disgruntled lawmaker said, claiming Kamal had shown the right path to misguided individuals like him.




"Our politics will not rely only on slogans and traditional dances," he said. "We will struggle for bringing real change in lives of the people of Pakistan."

Welcoming Hafeezuddin to his party, Kamal said the people should be free to decide their political affiliations. "I will have no issues if any of our members leaves the party over ideological or other disagreements in the future," he said. He added the only loss one has to bear while joining another party was to lose their assembly seat.

The PSP leader once again invited people to him in taking Pakistan towards a better future. "We welcome everyone from any cast, sect or ethnicity," he said.

Hafeezuddin joining the PSP came just two days before the party's planned show of strength in Karachi. The first political rally of the new party will be held on Sunday.

Reaction

PTI's Imran Ismail termed Hafeezuddin's departure good riddance for the party.

He said the lawmaker had been suspended by the party and Imran had given verbal instructions to Arif Alvi to remove him from the party on the charges of land encroachment.

Ismail also warned Kamal would soon find his party surrounded by conspiracies after letting in a person like Hafeezuddin. The lawmaker had bagged 15,322 votes from the Karachi PS-93 (Banaras-Mominabad) constituency in the May 2013 polls, defeating Jamaat-e-Islami's Abdul Razzaque (11,800 votes). The lawmaker was disqualified by an election tribunal on August 7, 2014, following which he challenged the tribunal's decision in the apex court.

Published in The Express Tribune, April 23rd,  2016.
COMMENTS
Comments are moderated and generally will be posted if they are on-topic and not abusive.
For more information, please see our Comments FAQ