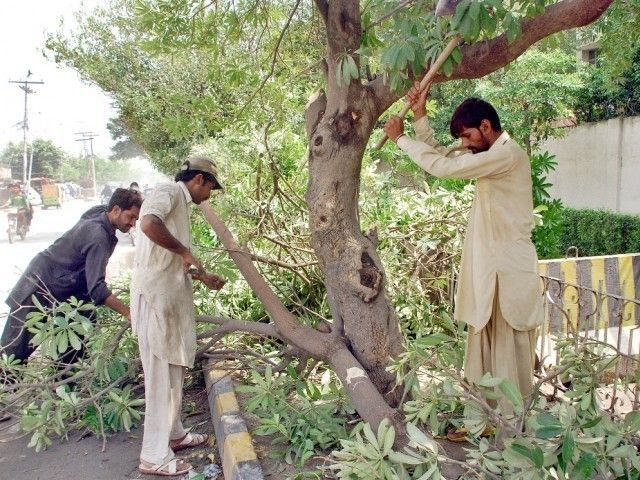 ---
LAHORE:



Chief Minister Shahbaz Sharif has introduced a policy under which one percent of the funds allocated for any development project should be spent on plantation of trees, Environment Protection Department Deputy Director Nasimur Rehman Shah said on Friday.




He was speaking to The Express Tribune on the occasion of the Earth Day (observed across the globe to raise awareness about the need to protect environment from degradation).

Shah said the EPD was ensuring that enough trees were planted in the vicinity of industrial areas to mitigate the effect of air pollution caused by factories.

International Union for Conservation of Nature (IUCN) Pakistan vice president Malik Amin Aslam stressed the need for preserving existing forests and trees. He said this was especially important in major cities where green spaces were vulnerable to mega-infrastructure development schemes. Aslam, also the head of Khyber-Pakhtunkhwa government's Billion Tree Tsunami Initiative, said the Punjab government's policy of planting 100 saplings for every tree cut as a result of its development projects was inadequate. He said it would take the saplings a while to grow into trees. "How will the government compensate for the lost time?" he asked.

Aslam said Pakistan had one of the highest deforestation rates in the world. Referring to the KPK government's plantation drive, he said it was not just concerned with tree plantation but also with changing people's mindset about the environment.

Aslam said deforestation in the KPK was a problem in rural areas where people encroaching on forest land and clearing it for private use. He said influential people involved in timber trade were responsible for high rates for deforestation. He said that in its plantation drive the government was not introducing any alien species. Only trees indigenous to the region were being planted. He said private sector was taking interest in tree plantation. He said private landowners were planting varieties known for rapid growth.

Leadership for Environment and Development chief executive officer Ali Tauqeer Sheikh agreed with Aslam that the Punjab government's plantation policy was not up to the task. "We need to develop our cities as livable spaces. Development projects need to be sustainable and resilient to challenges posed by climate change," he said.  Sheikh said Lahore used to be known as the city of gardens. He said the city's green spaces had given way to concrete structures like overhead bridges and underpasses. "It is distressing to see thoughtless widening of city's major roads," he said. He said the growth model followed by the authorities concerned was resulting in a horizontal expansion of the city. He said the city was fast encroaching upon fertile farmland in its peripheral areas.

Referring to a World Bank report from 2005, he said the per day cost of environment degradation had then been recorded at Rs1 billion.

Several events were held in the city to mark Earth Day on Friday.

Speaking at one such event, Environment Minister Zakia Shahnawaz stressed the need to check the pace of deforestation. She said the government and environmentalists needed to collaborate to tackle the challenges posed by climate change.

Worldwide Fund for Nature (WWF) Pakistan organised an event at a private school in Johar Town. It featured a puppet show to raise awareness about environment protection measures and exhibition of products made by students using recycled material. Students also planted saplings and vowed to work for reducing their ecological footprint on the earth's environment.

Several other education institutes part of the WWF-Pakistan's Green School and International Eco-Internship Programmes held plantation drives to mark the day.

The United States-Pakistan Youth Council held an awareness raising event at the Forman Christian College University.

Published in The Express Tribune, April 23rd, 2016.