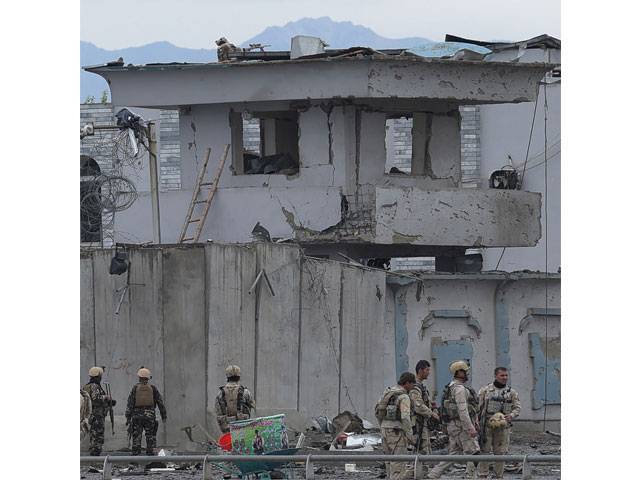 ---
ISLAMABAD: Afghan Chief Executive Dr Abdullah Abdullah's decision to postpone his scheduled visit to Pakistan over a deadly suicide bombing in Kabul would not be considered wise at a time when both countries need enhanced ties to deal with common challenges.

Abdullah's office cited the April 19 Taliban attack in Kabul — against a security agency responsible for protecting senior government officials and VIPs — as the reason for the delay in his visit. The attack killed 64 people and injured 347 others.

New dates for Dr Abdullah's visit being worked out, says FO

The Pakistan foreign office spokesperson in Islamabad confirmed the postponement. The visit would have been a good opportunity for Abdullah to personally hand over his "evidence" to substantiate claims if the Kabul attack had any links to Pakistan to leaders and Prime Minister Nawaz Sharif. Abdullah's spokesperson Javid Faisal also came up with a traditional statement, saying the "attack was planned outside". Faisal said this in a veiled reference to Pakistan.

Postponement of the official visit could also be seen as the victory of the spoilers who cannot tolerate efforts for improved and tension-free relationship between the two countries. As Pakistan and Afghanistan are facing similar security challenges and threats, they should use bilateral forums and interact more so as to address each other's concerns.

Series of attacks

As the Afghan Taliban carried out a huge attack in Kabul on Tuesday, the Pakistani Taliban groups carried out attacks in Karachi in Sindh, Mardan in Khyber-Pakhtunkhwa, and Kurram and Mohmand agencies over the past few days, killing and injuring security personnel and civilians.

Pakistan officials insist all Pakistani Taliban groups now operate from the Afghan side of the border. If this is the case, then the two countries cannot pause interaction.

Nawaz condemned what he called a "heinous and brutal terrorist attack in Kabul" in a message to Afghanistan President Ashraf Ghani. Nawaz called for a coordinated approach with Afghanistan to counter the threat common to both countries.

Pakistan does not 'cooperate in anti-terrorism activities', claims Abdullah Abdullah

No sane person can endorse Taliban attacks that kill their own people, Afghans. Every international survey, including those carried out by the United Nations, suggests war in Afghanistan has mostly killed civilians. The insurgents can doubt international groups and claims by the Afghan government, but they cannot deny facts on the ground.

Mind the gap

More Taliban attacks could not be ruled out which might kill more civilians. But no attack should widen the gap between Pakistan and Afghanistan as trust deficits in the past have badly affected cooperation.

A vast majority in Pakistan believes the country suffers because of the situation in Afghanistan. In Pakistan, there is a belief the Kalashnikov culture comes from Afghanistan. On the other hand, in Afghanistan, there is a lack of goodwill for Pakistan. It is time for Pakistani policy-makers to remove the grievances among Afghans.




The findings of a recent survey have suggested people in Afghanistan have a negative perception of Pakistanis.

The survey was released last month by Gallup and the Broadcasting Board of Governors. It showed Pakistan received a rating of only 3.7% in terms of liking. The percentage was lower than that given for Islamic State (Daesh) – 5.8%.

The survey was conducted between October 27 and November 18 among a nationally representative sample of 2,500 adults across Afghanistan's 34 provinces, according to Voice of America.

Dr Abdullah says he doubts Pakistan's peace role

An upsurge

The April 19 attack in Kabul marked the beginning of the Taliban's bloodiest Spring Offensive, triggering apprehensions of an upsurge in violence. On its part, the Afghan government has also launched a counteroffensive, named "Operation Shafaq".

As the Taliban had earlier refused to join the talks and preferred to continue war, the quadrilateral group of Afghanistan, Pakistan, China and the United States should meet soon to find out ways to deal with the situation before the worsening crisis in Afghanistan spills over into Pakistan.

Published in The Express Tribune, April 23rd,  2016.
COMMENTS (3)
Comments are moderated and generally will be posted if they are on-topic and not abusive.
For more information, please see our Comments FAQ