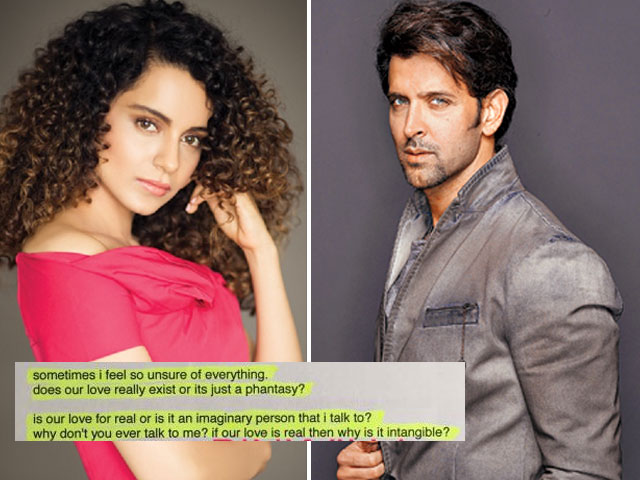 ---
The battle of the exes just took a dramatic turn!

Kangana Ranuat has time and again claimed that Hrithik Roshan is her ex, but the Bang Bang actor has consistently denied being in a relationship with her, and a set of emails may finally prove who's right.

In an interesting turn of events, Hrithik has submitted the emails -- allegedly sent to him by Kangana -- to the Cyber Cell for investigation purposes, reports DNA.

I am a total badass, not a sati-savitri: Kangana Ranaut

A police complaint has also been filed against Kangana for mentally harassing him.

The emails submitted by Hrithik show the Tanu Weds Manu star in a one-sided affair. Reports also suggest that over a thousand emails were sent to Hrithik over a period of six months. Some days, Kangana would send him emails every six minutes, but Hrithik didn't respond to any of them.

Kangana Ranaut asks police to arrest Hrithik Roshan

Pinkvilla has released copies of the emails that were exchanged between the stars between July 2014 and December 2014.




It seems that Kangana was communicating with an imposter the entire time. According to another set of emails released by DNA, Kangana's sister Rangoli Ranaut got in touch with Hrithik asking him to leave her alone.




To which the actor clarified that the email ID Kangana has been sending mails to was not his.




Kangana's lawyer however, has denied Hrithik's claims saying a police complaint has been filed for her email account being hacked.

"My client Ms Kangana Ranaut has alleged that Mr Hrithik Roshan was continuously hacking her email accounts due to which she was forced to shut and abandon her two primary email accounts more than 8 months ago. These allegations were also contained in my counter notice cum reply dated 1st March 2016, to which Hrithik has still not replied to despite lapse of more than fifty (50 days)," the lawyer was quoted as saying, reports Hindustan Times.

'Hrithik proposed to Kangana in 2014'

"It is a matter of record that Hrithik filed his FIR only on the 5th of March 2016 i.e. after my client claimed that her emails were hacked. It is therefore apparent that the emails that Hrithik is referring to or relying upon, in all probabilities is not genuine at all and could largely be fabricated.

"In any event my client is bold enough to admit and accept the emails which were genuinely communicated to Hrithik on his correct email ID, only once she verifies the contents of the same. Until such verification and acceptance on the part of my client, any emails circulated by Hrithik to the media in an effort to tarnish my client's name and image or to put pressure on her and/or to outrage her modesty should be treated as fabricated," maintained the lawyer.
COMMENTS (2)
Comments are moderated and generally will be posted if they are on-topic and not abusive.
For more information, please see our Comments FAQ