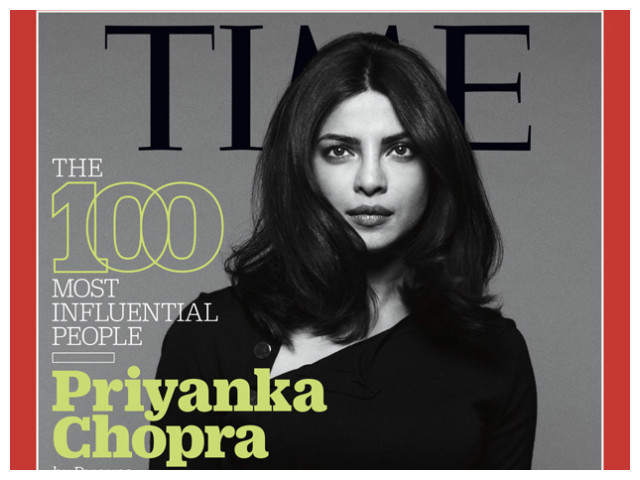 ---
As if bagging a role in Quantico and being the first South Asian to win a People's Choice Award wasn't enough, Priyanka Chopra has left us in awe of her once again, by making it to Time magazine's "100 Most Influential People list."

The actor is now in a league of successful people such as Barack Obama, Mark Zuckerberg and Adele, who have made it to the list.

What a way to start the day! #Time100's list of achievers! Humbled, overwhelmed and feeling so blessed! pic.twitter.com/oFp9pGlHLI

— PRIYANKA (@priyankachopra) April 21, 2016
Thank U @time for including me in such an illustrious list of achievers. #Gobsmacked to have made the cut! #Time100 https://t.co/wc9KhrLEVJ

— PRIYANKA (@priyankachopra) April 21, 2016


In her latest interview with Time magazine, Priyanka poured her heart out as she answered questions about her ambitions, self-worth and success.

I don't need a man for anything but children: Priyanka

Here are the seven answers the Quantico star gave that landed her a place on Time's list.

She wants to have a legacy

"I don't want to be called an actor, I don't want to be called a star, I don't want to have a label, I want to have a legacy."




She wants to be limitless

"I want to be known as someone who has goals and achieves them. And whatever they might be, wherever they might be, I want to be limitless."




Priyanka Chopra wows on Oscars red carpet in $8 million worth of jewels

She wants to break stereotypes

"I want to break stereotypes. I want to go where no man or woman has gone before. And it might be a scary path, and it might be a path that no one has taken, but at least it will be just mine."




She competes with herself

"I had the worst self-esteem when I was a kid. I was made fun of because of the way I talked, because of where I came from. I was made fun of on every level."

"And the only way you can change that is setting goals for yourself and saying, 'I will be the best version of me'."

"You have to put your blinkers on and find what you do best and just keep on moving."




Priyanka Chopra, Sania Mirza receive Padma honours

She always has a plan B

"When I was 18 and I started doing movies, I gave myself a year and a half. If I sense it that I am not good at what I am doing and I don't see something opening up for me, I am gonna go back to college."

"I always had a plan B, I still always have a plan B. And that's what I always tell young people, you know life doesn't end it just keeps moving."




She has the power to create people

"There was a film I did called Fashion, very early in my career. That kind of changed me a little bit, that movie."

"It was at a time when female-led films weren't given as much importance as the boys' movies were. Because boy's movies make more money."

"But that movie did really really well. Everyone was like 'Whao, a female-led movie did well.' And it made a lot of money."

"It changed me as an actor because I was like wait a minute, 'I can create people'. I taught myself makeup, I taught myself clothes, I taught myself emotions, I taught myself to move people. That's a huge, huge power."




Last but not least...

She is irreplaceable

"When I was very young, I was 19 and I was doing the first few movies, I remember the producer just said, 'Well, if she can't work it out, it's fine. We'll just cast someone else, girls are replaceable'."

"Subconsciously, it really worked on my mind and I started picking up parts which were strong, which were not just the damsel in distress waiting for someone to rescue me."

"Now, 15 years later, the movies that I do, I am irreplaceable!"




You go girl!