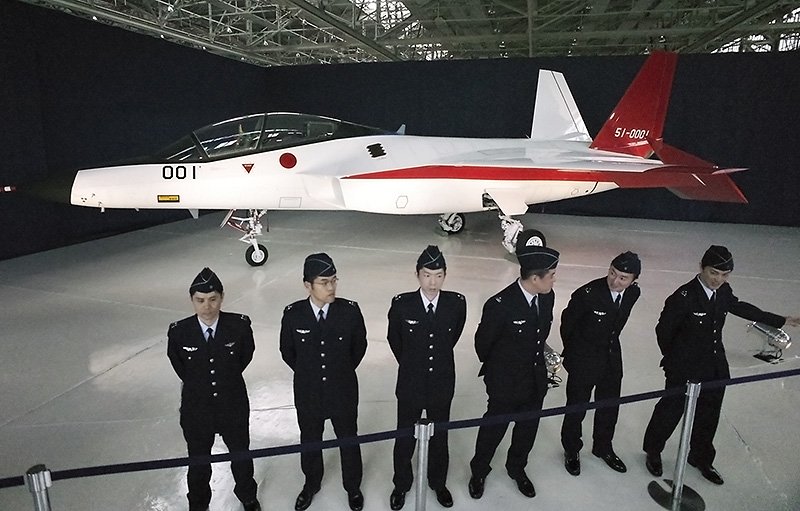 ---
TOKYO: Japan's first stealth fighter jet successfully took to the skies on Friday as the country joins a select group of world military powers wielding the radar-dodging technology.

Technological super power Japan, despite strict constitutional constraints on the use of military force imposed after World War II, has one of the world's most advanced defence forces and the development of the stealth fighter comes as it faces new security challenges in the form of China's expanding force posture.

Pakistan Army will always live up to nation's expectations: Gen Raheel

The domestically developed X-2 jet took off from Nagoya airport in central Japan on its maiden test flight as dozens of aviation enthusiasts watching the event erupted in applause as it lifted off into the clear morning sky.

Television footage showed the red-and-white aircraft roaring into the air, escorted by two Japanese military fighters that were collecting flight data.

The single-pilot prototype safely landed at Gifu air base, north of Nagoya airport, after a 25-minute flight with "no particular problems," said an official at the defence ministry's acquisition agency.

The inaugural flight, which followed extensive ground tests, had been postponed due to bad weather and malfunctions of parts used in its escape system.

Air forces of Pakistan, China launch joint training exercise

"The first flight has a very significant meaning that can secure technologies needed for future fighter development," Defence Minister Gen Nakatani told reporters.

"We can also expect it can be applied to other fields and technological innovation in the entire aviation industry," Nakatani added.

The X-2, developed by Mitsubishi Heavy Industries and 200 other firms, measures 14.2 metres (47 feet) long and 9.1 metres wide and was built as a successor to F-2 fighter jets developed jointly with the United States.

Its delivery to the defence ministry is expected as early as next month and the acquisition agency "will continue analysing data and check its stealth technology capability," the agency official told AFP.

Presently, only the United States, Russia and China have been internationally recognised as having successfully developed and flown manned stealth jets, the agency said.

Russia boosting ties with Pakistan: Putin

Japan began the project in 2009 and has reportedly spent about 39.4 billion yen ($332 million) to develop the aircraft.

In November Japan's first domestically produced passenger jet, also developed by Mitsubishi Heavy, made its maiden test flight, a landmark development for the country after being barred from developing aircraft following its defeat in World War II.
COMMENTS
Comments are moderated and generally will be posted if they are on-topic and not abusive.
For more information, please see our Comments FAQ