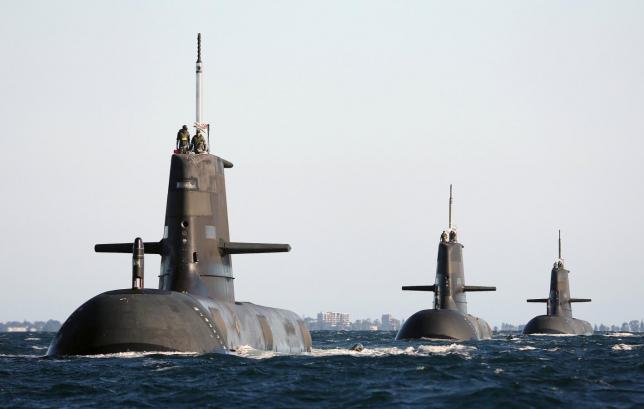 ---
SYDNEY: The international race between France, Germany and Japan to win a US$39-billion-dollar contract to build new submarines for Australia is reaching a climax with reports a decision could come next week and that Tokyo is all but out.

The Australian cabinet's National Security Committee met this week to weigh up the options from France's shipbuilder DCNS, the Australian subsidiary of Germany's ThyssenKrupp Marine Systems and the Japanese government-backed consortium led by Mitsubishi Heavy Industries.

Mining to dining: Australia becomes China's land of milk and honey

Prime Minister Turnbull has said a decision "will be made in due course, it will be made shortly", but he declined to elaborate.

The committee's findings will go to the full cabinet amid unconfirmed reports of an announcement next week.

The Australian newspaper reported that the Japanese bid was considered the weakest and the French "the strongest".

After a year running as favourite, Japan has now been virtually eliminated from the contest, The Wall Street Journal said, quoting people familiar with the matter.

Tokyo's bid was considered a "considerable risk" given the lack of experience in building naval materiel abroad, the daily said.

ThyssenKrupp is emerging as a front-runner, according to the journal.

Study in Australia : Education road show, exhibition from today

That leaves Japan considering a last-ditch intervention at the highest level to try to rescue its flagging bid, the Australian Broadcasting Corporation reported Friday.

The ABC has been told a "direct call by Prime Minister Shinzo Abe to (Australian Prime Minister) Malcolm Turnbull to plead Japan's case is among the options being considered" in Tokyo.

Diplomatic cables, media and all available intelligence on the rival bidders is being pulled together by a team in Tokyo to brief Abe on his options, the ABC said.

With French sources confident of a technically superior offer, Paris newspaper les Echos even speculated that the DCNS bid would win, dismissing the German sub as at a serious disadvantage and "existing only on paper".

All bidders are keenly aware that politics may play a large part in the final decision.

Shipyard jobs have become a political football in Australia amid fears any off-the-shelf submarine purchases could kill off the domestic shipbuilding industry.

Australian Awards South West Asia : 'Empowering women benefits families'

All three bidders have said they will build a large part or all of their submarines in Australia.

With an Australian general election expected on July 2, Turnbull this week promised new warships would be built in South Australia, which has suffered badly from car plant closures.

Canberra is seeking to replace its current diesel and electric-powered Collins Class submarines, which are set to be retired from about 2026.

The new generation of subs are expected to offer superior sensor performance and stealth capabilities, besides matching the range and endurance of the Collins Class vessels.

DCNS has proposed a conventional version of the Barracuda, ThyssenKrupp the Type 216 submarine and Japan the Soryu.
COMMENTS (1)
Comments are moderated and generally will be posted if they are on-topic and not abusive.
For more information, please see our Comments FAQ