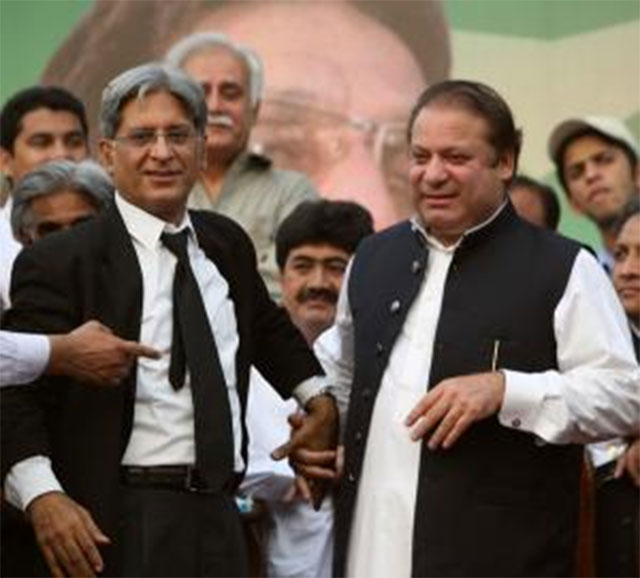 ---
ISLAMABAD:



Opposition parties on Thursday demanded that any probe into the Panama Leaks ought to start from the family of Prime Minister Nawaz Sharif.




Speaking in the Senate on Thursday, Leader of Opposition Aitzaz Ahsan said that after consulting with opposition parties and parliamentarians from the tribal areas, consensus has been reached on six points.

PM Nawaz's family hit back after Panama Papers lea

"Though the Panama Papers include names of over 200 Pakistanis, the [inquiry] process should start from the prime minister's family through forensic audit of assets, including the Ittefaq group."

Ahsan said opposition parties have agreed that the matter was beyond the scope of the National Accountability Bureau (NAB) and the Federal Investigation Agency (FIA) since money was transferred to foreign countries, hence a "reputable international forensic audit firm should be hired for the investigations."




The Pakistan Peoples Party (PPP) senator added that the government will facilitate this firm in their investigations while investigators should be empowered through the World Bank's Stolen Assets Recovery initiative and work under UN conventions. The opposition leader added that if required, necessary legislation should be enacted in this regard.

Once complete, the firm will present its audit report to the body which ultimately is responsible for probing the case in Pakistan whether it is a judicial commission or a parliamentary committee.

'Panama leaks have made no allegations of wrongdoing against Sharif family'

Ahsan admitted that opposition parties were divided on whether a judicial commission should probe the matter or a parliamentary committee headed by a member of the opposition. However, Ahsan said the terms of reference for any probe commission through consultation will be prepared in consultation with all the opposition parties.

Pointing towards statements from Nawaz's sons where they confirmed owning apartments in London, Ahsan said the burden of proof to disprove the allegations rested on the Sharif family.

"The burden of evidence in the backdrop of these statements [from Nawaz's sons] lies on the PM's family and they should explain how they bought the property."

Despite calls from some opposition parties for the prime minister to resign, Ahsan gave Nawaz the benefit of doubt and pointed to how British Prime Minister David Cameron had reacted when his name came up.

"[Like Cameron] present records of tax he [Nawaz] has paid till date, assets and equity profile before parliament."

Published in The Express Tribune, April 22nd, 2016.
COMMENTS (10)
Comments are moderated and generally will be posted if they are on-topic and not abusive.
For more information, please see our Comments FAQ