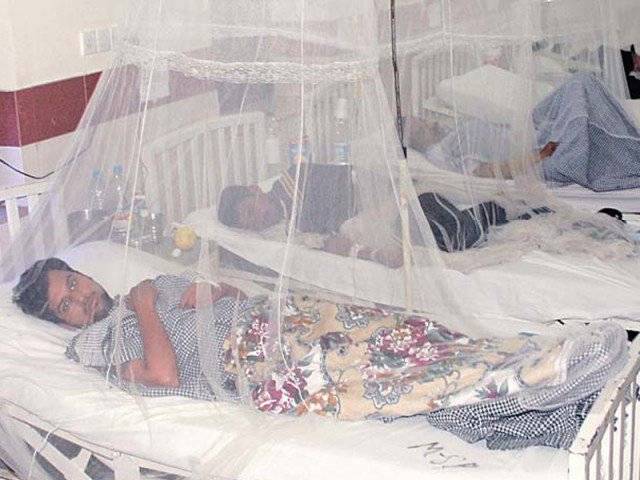 ---
RAWALPINDI:



Doctors anticipate another dengue outbreak in Rawalpindi this summer as the number of patients suffering from the virus is increasing every day.




Health officials are of the view that management efforts taken by the city district government have proven inadequate as dengue patients continue to pour into Holy Family Hospital (HFH), where a separate dengue ward has already been established.

On Thursday, two people — Agha Ajeed, 22, a resident of Muslim Town and Babar Khan, 33, a resident of Fateh Jhang — were confirmed dengue positive at the hospital. A day earlier, Aftab, a resident of Satellite Town was diagnosed to be suffering from dengue fever.

Three other unnamed patients came from other cities — one from Karachi, one from Attock, and one from Saudi Arabia.

"The emergence of dengue cases in Rawalpindi in April is just the tip of the iceberg. Last year, dengue cases started surfacing in July," said a district health department official. He further said that mosquito larvae normally mature in March and April, while noting that over 3,900 patients were treated for the viral infection in the three public teaching hospitals of Rawalpindi last year.

While speaking to The Express Tribune, he said that anti-dengue efforts clearly seemed ineffective. Inspection and anti-mosquito spray alone could not control dengue, he said.

"The district health department has written a letter to Punjab government saying that Teami Phas, a mosquito-killing insecticide imported from India, did not give the required results. The health officials want something better," the health official said.

A doctor in HFH said that most dengue cases reported last year fell under DEN-I and DEN-II – the initial forms of the dengue virus. He said it was feared that if patients catch the fever again, there would be more cases of DEN-III and DEN-IV.

The doctor further elaborated that recurrence of dengue in a patient leads to either dengue hemorrhagic fever (DHF) or dengue shock fever (DSF).

The doctor feared that the public hospital did not have sufficient facilities or enough trained staff to take care of the high number of dengue patients in Rawalpindi. So far, no extra steps had been taken to tackle possible cases of DHF and DSF, he said.

Meanwhile, a press note issued by the Rawalpindi Public Relations Directorate stated that Punjab Chief Secretary Zahid Saeed chaired a meeting to discuss anti-dengue efforts in the city.

Saeed, who was the Rawalpindi commissioner last year, warned that if the concerned authorities remained negligent in controlling dengue larva breeding, the situation could result in a dengue outbreak. The chief secretary noted that negligence would not be tolerated.

In the meeting, Rawalpindi Commissioner Azmat Mahmood said that the situation was under control. Efforts were underway to enhance capacity of departments fighting against dengue, he added.

Published in The Express Tribune, April 22nd,  2016.