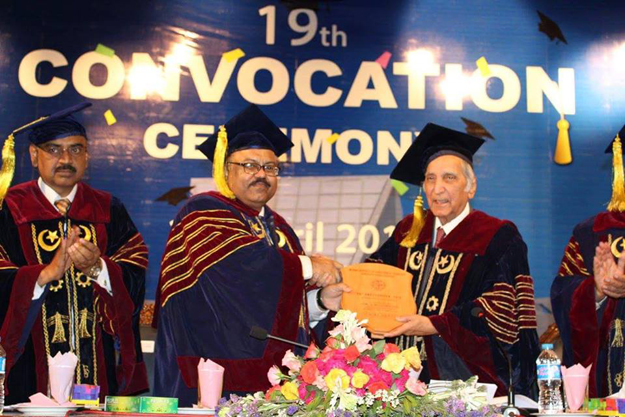 ---
HYDERABAD: Around 625 graduates were conferred academic degrees and diplomas at the 19th convocation of Mehran University of Engineering and Technology (MUET) on Thursday.

One MPhil, 40 Master's of engineering, 435 Bachelor's of engineering, 38 Bachelor's of architecture and 55 Bachelor's of design students were among the recipients. Up to 42 students of Shaheed Zulfikar Ali Bhutto Campus, Khairpur, were also awarded the degrees.

The vice-chancellor (VC) Dr Prof Muhammad Aslam Uqaili said that MUET is the first engineering university in the country to introduce the gender policy. He added that a society of women engineers has also been formed. The VC assured that, from next year, the convocation will take place in March and will not be delayed.

MUET founding VC Dr SM Qureshi said that when Mehran College was upgraded to university level in 1977, there were only three teaching departments that have now been increased to 17. He urged the graduates to further establish their varsity's name through their professional career.

Matiullah Memon of the faculty of electrical, electronics and computer system engineering and Nabila Mallah from the faculty of engineering were awarded with one silver and two gold medals each. Both were declared the best graduates and top position holders of their respective faculties. Rabia Jaffery, Fatima Memon, Faisal Zardari, Rasool Akhtar Siddiqui and Junaid Ahmed Siddiqui also received gold and silver medals.

Published in The Express Tribune, April 22nd, 2016.