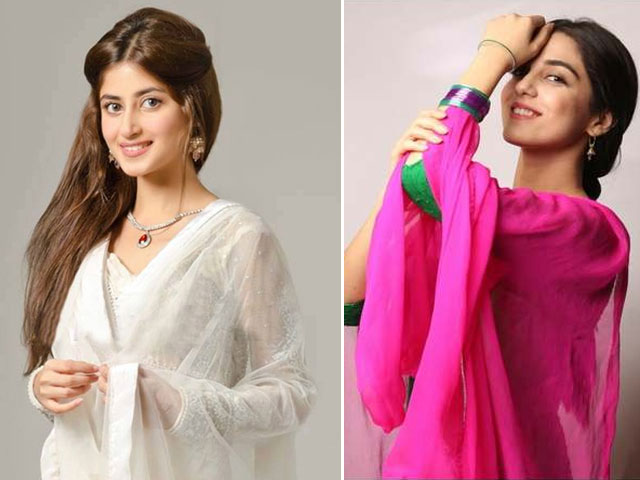 ---
Anyone scanning our TV channels for inspiring or even realistic female characters is going to be sorely disappointed.

There was a time in the recent past when dramas like Dastan, Humsafar and Zindagi Gulzar hai gave us iconic heroines like Bano, Khirad and Kashaf to compliment the wonderful protagonists. Can anyone really forget Dr Zoya of Dhoop Kinarey, Zahra and Sanya of Tanhayan, Shehnaz Sher of Alpha Bravo Charlie and Sana Murad of Ankahi?

So, who are the heroines of today? A quick glance at the top rated dramas gives us some insight into the heroines - it's a depressing list.




Here's the ultimate list of Pakistani dramas you must watch in 2016

From current hit dramas, the female leads are unrelentingly disappointing. Look at Mann Mayal - a drama that consistently produces high ratings; the heroine is a personality-less drone, whose entire existence revolves around the men in her life. Whereas, the nation's past favorites, Khirad and Kashaf were both shown reading a book or two and striving to pass exams.

Mannu of Mann Mayal instead, goes to Mazaars to pass her exams and has yet to feature in a scene which doesn't mention her evil husband or her lost love. She has absolutely no inner life, no preferences, and certainly no ambitions or hobbies. Her general helplessness portrays her as the archetypal 'bholi larki' lost in a bad, bad world waiting to be rescued.




Another recent hit was Gul-e-Rana, in which the heroine is certainly interested in getting an education, but that education does nothing to empower her. She is still forced to marry at gunpoint (a fact she can't even reveal to her mother), and she can't free herself from the shackles of her abusive husband till he reforms and 'lets' her go.

While Gul-e-Rana gives speeches about female empowerment, the heroine tells off a victim of assault for wearing clothes that "invite rape".

Mein Sitara: Serial on Lollywood's golden era a dark horse among Pakistani dramas




Another hit drama is Abro, in which the heroine is punished for the rest of her life because she ran away to get married. A rude, arrogant girl; her spirit is broken and she is reshaped as the victim of her mother-in-law's unending hate. In almost twenty years, Abro is unable to improve her condition.

Yet another popular drama, Bay Qasoor takes the mazloom, helpless-woman syndrome to a new level of depravity when a mother actually poisons her own daughter to avoid a forced marriage. Bay Qasoor also introduces a new phenomenon to Pakistani culture (or at least TV), where an aunt and niece get married to the same rich man.

These sad, disempowered females suffer but are never allowed to change their own circumstances despite having the sense and ability to do so. It's in sharp contrast to a heroine like Bano who suffers abuse but plans her escape, or Khirad who puts aside Asher's attempt at reconciliation and leaves, or Kashaf who would not bend to either her neglectful father or her domineering husband. None of these characters had to prove themselves worthy, saintly or innocent in order for their situation to improve. Their self-worth was intrinsic. They never earned respect - they expected it as their birthright.

Umair Jaswal set to make acting debut in Mor Mahal




Despite this onslaught of silly girls and stunted women, there are a few interesting, strong female characters out there. The new drama Dillagi has a dabang style heroine, Anmol, who stands up to her goon of a husband and won't back down from any challenge.

In Udaari, Sheedan stands out as a woman with courage and pride despite her poverty and lowly birth. In fact, many of the women in both these serials are practical and resilient, making them rare, almost unique figures on our screens at this time.




The upcoming drama serial Mor Mahal also promises some strong female characters, if the story can resist sinking into the usual plot of women manipulating men to gain power.

Exclusive: Richa Chadha on Urdu, Pakistani dramas and Fawad Khan

The basic definition of a heroine is a "woman who is admired," and who we admire says more about us and our aspirations than anything else.

So the question is, who do we -- as a nation -- admire?

In today's digital age, the images flashing before us on our mobile phones, laptops and TV screens, subtly shape our thinking in ways we may not even realise, so it's important to wonder how these characters will inspire the next generation.

Pakistan's drama industry has set the bar high in the past and there is no reason why it can't make both commercially viable and inspiring serials today.

The author is a freelance writer, a serious fan of dramas and films but most of all an observer. She tweets @Tomtomatoe.
COMMENTS (5)
Comments are moderated and generally will be posted if they are on-topic and not abusive.
For more information, please see our Comments FAQ