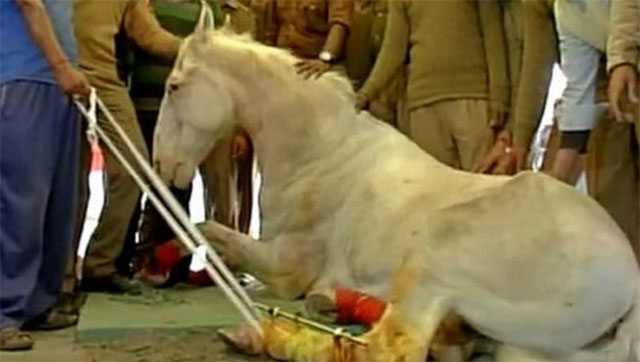 ---
DEHRADUN, INDIA: A horse was buried with "police honours" after dying from injuries suffered in an attack allegedly by an Indian politician, with his death triggering renewed outrage.

The police horse, called Shaktiman, became the subject of a weeks-long row between rival political parties in India after his injured hind leg turned gangrenous and had to be amputated.

Police horse attacked by BJP, dies after a month struggle

Ganesh Joshi, from the ruling Bharatiya Janata Party (BJP), was briefly arrested last month on charges of cruelty to the horse which was wounded during a party protest in the northern state of Uttarakhand.

Shaktiman was fitted with a prosthetic limb reportedly rushed in from the United States and every detail of the animal's road to recovery was covered by the Indian media.

But Uttarakhand police announced on Wednesday that Shaktiman had gone into shock and died after being given anaesthesia to treat another infection.

"The doctors had administered anaesthesia to him as they needed to treat an infection but he could not handle the anaesthesia," senior superintendent Sadanand Datte told AFP.

Datte said the animal was buried with "full police honours" in state capital Dehradun late Wednesday. Shaktiman was wrapped in a white cloth in a ceremony watched by politicians and police, an AFP reporter at the funeral said.

The news triggered fresh anger, with national minister and animal rights campaigner Maneka Gandhi calling for those responsible to be thrown in jail for "killing a police officer".

BJP state lawmaker Joshi again denied he had attacked the horse with a stick during the protest. "If I am found guilty, then cut my leg," Joshi was quoted as saying by the Times of India.

The Uttarakhand government, run by the rival Congress party, had spared no expense in treating the horse, with the creature becoming a cause celebre.

Horse-sized dinosaur shows how T. rex became king

Shaktiman had been treated to repeat visits from the state's chief minister and an American veterinary surgeon had reportedly been flown in from Bhutan to provide treatment, in what some critics saw as a case of political point-scoring.

Indians took to Twitter on Thursday over the death, some accusing politicians of "using #Shaktiman as a political tool".

Bollywood actor Neha Dhupia said: "We are sorry #Shaktiman. U didn't deserve this... It's us... What's the human race coming to."


We are sorry #shaktiman ... U did nt deserve this ... It's us... What's the human race coming to. #disgraceful

— Neha Dhupia (@NehaDhupia) April 21, 2016
Horses are beautiful and majestic creatures #Shaktiman was killed & for what..? World Politics. Complete irony against humanity.

— Amy Jackson (@iamAmyJackson) April 21, 2016
Indian should stop using horses in the police. Idea whose time has passed. High chance of injury. Terribly unfair to animal. #RIP #Shaktiman

— Rahul Kanwal (@rahulkanwal) April 21, 2016