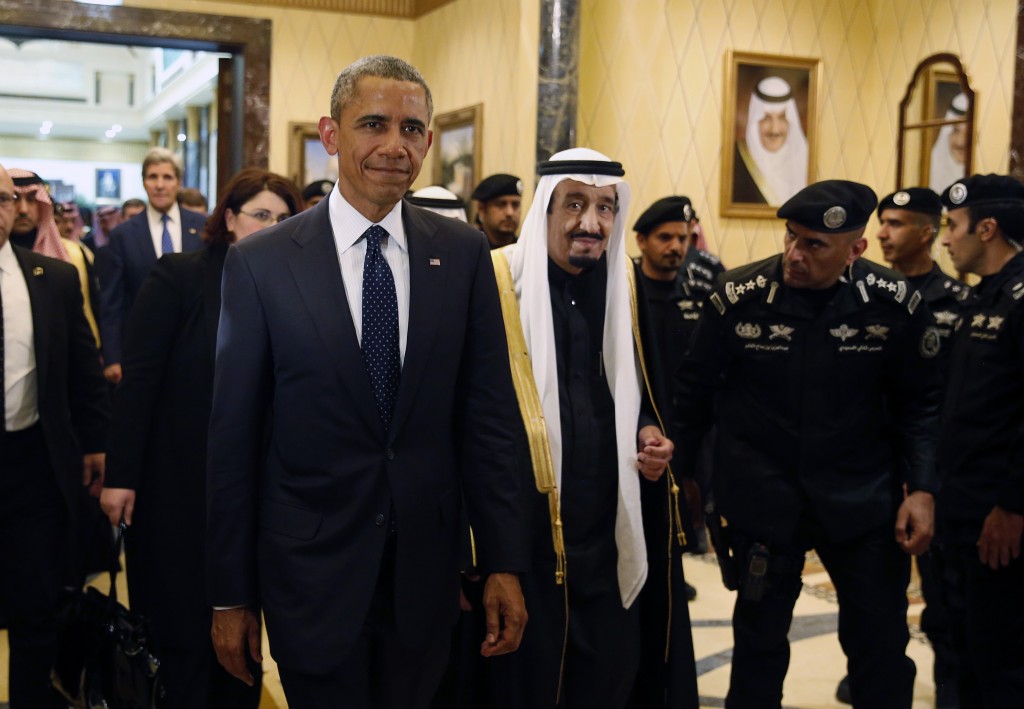 ---
One year after receiving them at Camp David, US President Barack Obama meets Gulf leaders again on Thursday, hoping they can more strongly commit to the fight against terrorists.

At the same time, with nine months left in his term, the president must again seek to reassure his Sunni allies upset over American overtures to their regional rival, Shia Iran.

Obama heads to Riyadh for talks on Islamic State, defense

Obama attends the Gulf Cooperation Council summit in the Saudi capital after reporting progress in recent months against the Islamic State group of Sunni extremists who seized large parts of Iraq and Syria.

Saudi Arabia and other Gulf nations belong to the US-led coalition which carries out air strikes against IS.

Around 4,000 American troops are in Iraq as part of that mission which trains and assists local forces fighting the militants.

The research group IHS said on Monday that Islamic State had lost about 22 percent of its territory in the past 15 months.

In a bid to accelerate gains against the terrorists, Defence Secretary Ashton Carter -- in Riyadh with Obama -- announced on Monday that the US will send more troops and Apache attack helicopters to Iraq.

Washington also wants to emphasise the reconstruction of cities taken back from IS.

On Wednesday, Carter pleaded for greater Gulf financial and political involvement in Iraq, which is battling an economic crisis as well as the extremists.

Senior Saudi royal criticises Obama

Carter made the comments after meeting his GCC counterparts.

"I encourage our GCC partners to do more, not only militarily as the Saudis, as the UAE have been doing... but also politically and economically," Carter said.

Sunni support for "multisectarian governance and reconstruction" in Shiite-majority Iraq will be critical to ensuring the defeat of IS, the Pentagon chief said.

But Gulf leaders are offended by Obama's perceived reluctance to get involved in the region's problems, and in particular his tilt towards Iran, their rival which they accuse of widespread regional interference.

They worry that Iran will be further emboldened after the lifting this year of international sanctions against it under a US-supported international deal to curb Tehran's nuclear programme.

Riyadh leads an Arab military coalition that for 13 months has supported Yemen's government in its battle against Iran-backed Shiite Huthi rebels.

Obama adviser Rob Malley said it is important to settle the regional conflicts in Yemen and Syria not only because of their devastating humanitarian consequences.

Referring to Yemen, he said "the countries that have been involved in that fight, as they reach a political solution, will be able to focus more of their activities against ISIL (Islamic State) and against Al-Qaeda".

He expressed hope "that we and the GCC will be able to do more in the fight against the terrorist threat and work in even greater partnership on that."

As Obama and the GCC meet on Thursday, Yemen peace talks are to start in Kuwait, the United Nations said, after the rebels agreed to join delayed negotiations.

"In Yemen, we are keen to find a solution," Saudi King Salman said, opening the GCC summit on Wednesday night.

Saudi Arabia, Iran must shape 'cold peace,' Obama says

He expressed hope the Kuwait talks "would achieve positive progress."

Al-Qaeda and IS have exploited Yemen's chaos to strengthen their presence in the country's south.

In Syria, Iran is one of President Bashar al-Assad's strongest allies, while Saudi Arabia and Qatar support rebels fighting him.

After months of Saudi mediation efforts, the main Syrian opposition and rebel factions came together in Riyadh last December to form the High Negotiations Committee.

But the committee this week suspended its participation in UN-brokered peace talks in Geneva as a ceasefire frayed.

Obama is expected to tell the Gulf monarchs that Washington will not ignore "destabilising acts" of Iran.

When he hosted Gulf leaders last May as negotiators tried to finalise the Iran nuclear deal, Obama assured of an "ironclad" US security commitment to America's decades-old allies.

King Salman did not attend that Camp David meeting, in what was widely seen as a snub despite Riyadh's and Washington's insistence it was not.

The White House says military cooperation has since then accelerated with Gulf states worried about the Iranian threat.

Washington has approved more than $33 billion in military equipment sales over the past year, Carter said.

Joint naval patrols and military exercises have multiplied. The two sides are also working on a common anti-missile system for the Gulf states.