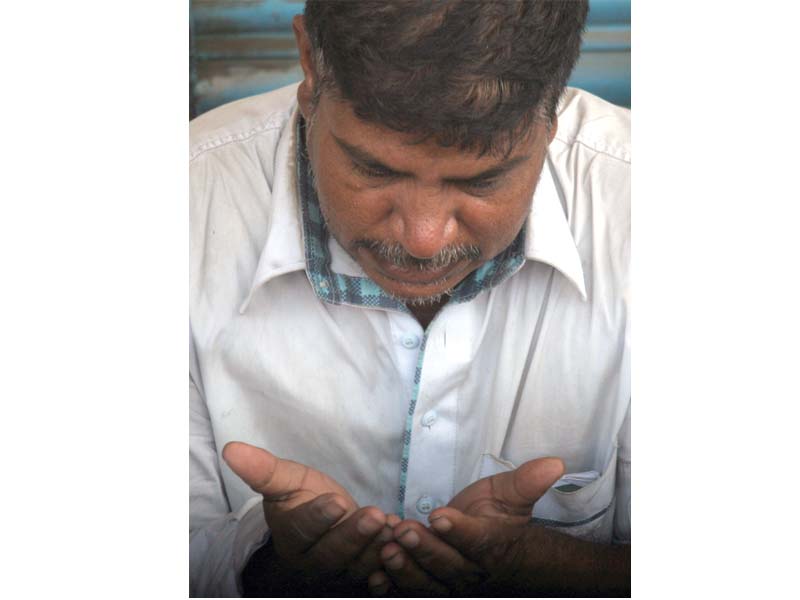 ---
KARACHI:



Tuesday evening was a regular one at the Sharifuddin household in Orangi Town save for his two daughters, 12-year-old Nimra and 10-year-old Rimsha, who were excited to receive their new school uniforms.




The girls' mother and their eldest sister had gone to Liaquatabad market to buy school uniforms for the new academic year and the youngest ones were waiting for them to return with their five-year-old cousin Ali Nasir.

Little did the parents know that, in less than 24 hours, they would be wrapping the girls and their cousin in coffins instead.

"Both Nimra and Rimsha were really excited but we asked them to stay at home," said their 14-year-old sister Aqsa, with tears in her eyes. "We will regret this decision until the day we die. Why didn't we take them with us to the market?" The three minors were strangled to death by one of their father's employees inside their 80-square-yard, ground-plus-one storey house in Mominabad.

Their father, Sharifuddin, used to run a small eatery on the ground floor of the house while the family occupied the upper floor. Since Sharifuddin was downstairs at his shop, the mother left the three children alone at home. "How unfortunate am I that my daughters and nephew were attacked and I couldn't do anything," he said. "They must have cried for help but I could not hear their shouts even though I was so close."

The family came to know about the incident when Aqsa and her mother returned home and found the bodies. They started shouting hysterically, attracting the attention of Sharifuddin and other neighbours. Sharifuddin's employees at the eatery below helped the family shift the bodies to the hospital but the family had no idea that one of them was the perpetrator.

Confession

Hours after the incident when the police started probing the family, the investigators came across one of Sharifuddin's employees, 18-year-old Ghulam Hasnain, who later confessed to strangling the children.

"Yes, I killed them and I regret it now. I did not want to kill them," said Hasnain, while talking to The Express Tribune from inside the Mominabad police station lock-up. "I only wanted to kill Aqsa because of her 'bad behaviour' towards me. She used to taunt me about being poor and eating at their expense, and would force me to work more and more."

Hasnain was employed at Sharifuddin's eatery for over a year. "I killed her [Aqsa's] siblings in a fit of rage after constant disrespect [from her]," he said. "I strangled them one by one using pillows." The teenager admitted that he killed the young girls first and then their five-year-old cousin later after he came home with sweets.

According to the family, they had allowed Hasnain to even live at their house. They pointed out that, aside from the murders, Hasnain even stole Rs500,000 cash and documents of the shop. "These items are now missing and he definitely stole them," said the victims' uncle, Muhammad Ismail. Ismail explained that Sharifuddin was planning to buy two more eateries next to his shop and Hasnain knew about this and that they would have cash at home. A few months ago, around Rs50,000 were also stolen from our house and the family had suspected Hasnain of being involved.

Laid to rest

As the grieving family struggled to come to terms with the trauma, the young victims were laid to rest at a graveyard in Orangi Town after the funeral prayers were offered after Zuhr on Wednesday. The mourners also held a protest and demanded strict punishment for the accused.

Mominabad police have registered a case. "Now there is nothing to do with this case as it has been resolved," said SHO Sabir Khattak. "We will try our best with our investigations so that the court can order his hanging."

Published in The Express Tribune, April 21st,  2016.