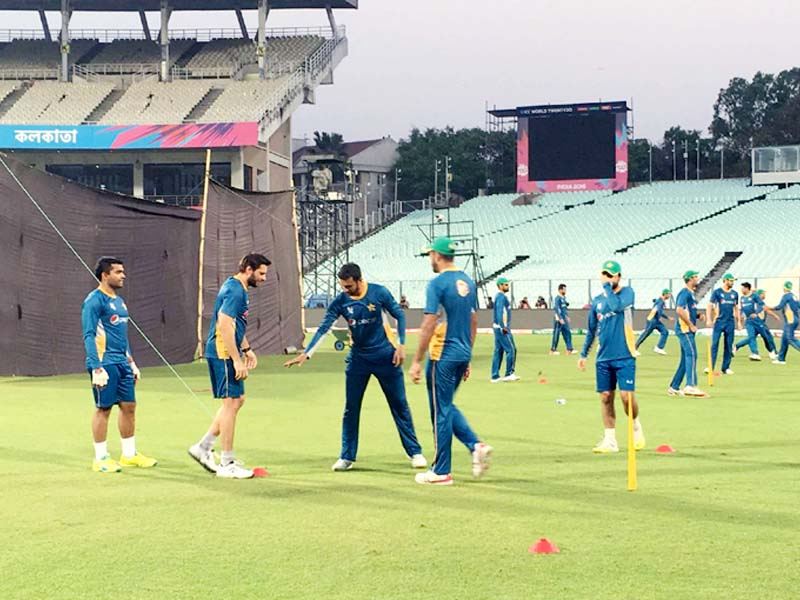 ---
Rapidly advancing techniques for practice and training have left Pakistan hanging onto the coat-tails of cricket's other giants.

Factors such as the advent of the T20 format, ever improving fitness standards, bowling machines, better nutrition intake and drastic increase in player wages have all combined to give cricket a new, razor-sharp look.

Rebuilding Pakistan cricket — a pipe dream?

Batsmen continue to explore new scoring avenues and balls once considered unhittable are often dispatched into the stands. Nimble-footed batsmen toy with even the most potent of bowlers and most of them hone their skills in training sessions with bowling machines and dedicated coaches.

In recent years, batsmen have added to their repertoire of shots, with AB de Villiers, Glenn Maxwell, Tillakaratne Dilshan and Brendon McCullum in particular discovering new avenues of scoring.

But back home, cricketers are struggling to come to grips with modern day practices. Other than the inadequate National Cricket Academy (NCA) in Lahore, there is no other facility for players to work on their game in improvised situations.

Pakistan's leading first-class batsman Fawad Alam, with a scarcely believable average of 56.71, still has to arrange for balls and bowlers himself if he wants to practice in Karachi, that too without a bowling machine.

"I have to buy balls and arrange for net bowlers, who can at most bowl for 40-45 minutes before getting tired," he said. "You have to call off your session after that."

In the days leading up to the World T20 in India, T20I skipper Shahid Afridi had to move to Lahore to utilise NCA's facilities. But while the NCA is equipped with modern facilities, the batsmen, including international veterans and global stars, have to arrange for net bowlers and balls themselves.

"If I want extra sessions, then I have to arrange for the bowlers and balls both," revealed a senior Pakistan batsman. "If a batsman wants an additional training session, he has to hope that an NCA coach is willing to work with him. Coaches across the country have done very little for player development."

Pakistan cricket and the crossroads that lasted six years

Karachi — Pakistan's leading cricketing 'nursery' — and its cricket association, the Karachi City Cricket Association (KCCA), doesn't have a single quality practice facility; despite its officials claiming it is the biggest cricket association in Asia.

Afridi leads the chorus of Karachi-based cricketers demanding for an NCA-like academy in their city; but, like most pleas, this has fallen on deaf ears.

If the country's largest and most populated city is ignored in such fashion, it doesn't take long to guess the fate of smaller cities and towns.

Modern cricket is pushing the boundaries of players and coaches alike; talent alone is not enough to compete now, preparation with the right tools is an absolute must.

Australian great Mike Hussey is an example to follow for Pakistan. Once when a game was called off, he spent six hours batting in the nets with his coach and a bowling machine. Hussey's mantra was simple, if he was supposed to spend long hours on the pitch, he needed to practice for long hours in the nets.

In a 79-match Test career, the man dubbed as Mr Cricket cracked no less than 19 centuries and had an average of 51.52, with countless hours in the nets providing rich dividends out in the field.

Hussey's training regime greatly impressed former Pakistan captain Rashid Latif and he has studied the 'Hussey training model' closely.

"Remember how Hussey hit Saeed Ajmal in the [2010] WorldT20? During that last over in St Lucia, he hit his sixes in three different directions from balls pitched on virtually the same spot," said Rashid. "This was a result of various batting drills like hitting balls pitched on one particular spot to different parts of the field. Leading players place cones on the field and bisect the gap between them ball after ball."

Rishi Kapoor calls for inclusion of Pakistani cricketers in IPL

Rashid feels the current crop of Pakistan players are perhaps not working hard enough and while they might be constrained by the dearth of facilities, they still don't have the passion that the players of yesteryears had.

"During our days we used to play up to 200 club matches a year; I remember I first practiced the sweep shot while playing a first-class match against KRL," he said. "Later on I mastered the shot by playing it in pressure situations in club games. What set players of that generation apart from the current one is that there was a desire to learn and practice tirelessly."

Rashid though agrees that modern practice facilities are a must if Pakistan are harbouring hopes of being consistent. "Bowling machines are a must and we need academies in all major centres across the country," he said. "The players who don't have access to NCA have nowhere to go; they must be provided quality facilities for improvement. Players shouldn't be worrying about buying balls and arranging for net bowlers."

Former Test player Mohammad Wasim, who is running a private academy in his hometown Rawalpindi, feels that specialised or improvised training for batsmen is impossible without a bowling machine.

"We all jump to point out deficiencies in our players but the fact is that at present they don't have the means to iron out the chinks in their game," he said. "If a batsman wants to work on a particular shot or against a particular delivery, he needs a bowling machine."

As Pakistan cricket treads on the 'road to recovery' for the umpteenth time, the PCB must equip the players with the facilities they desperately need.

Modern training equipment is essential for the sustenance and growth of PCB's primary product — the Pakistan cricket team — while the players must also repose their trust in the age-old values of passion, commitment and discipline.

Published in The Express Tribune, April 21st, 2016.

Like Sports on Facebook, follow @ETribuneSports on Twitter to stay informed and join in the conversation.