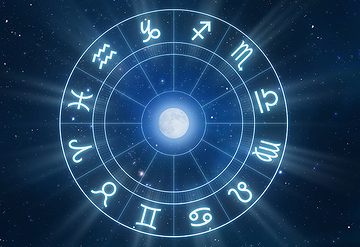 ---
Aries | March 20 – April 18


Every once in a while an encounter, probably with somebody you know, makes you realise how important the individual in question is to you. However, the trigger behind this, which is Venus' meeting with Uranus, planet of the unexpected, could as well lead to a sudden and intense new passion.

Taurus | April 19 – May 19




Are you feeling on edge? If so, it's probably the result of the heightened emotions typical of the coming Full Moon. What's more, because this particular one accents close alliances, personal and out in the world, you could find you must discuss them, even those issues you've been studiously avoiding.

Gemini | May 20 – June 19




The time has come to ask certain questions. While usually you've a talent for extracting even complex facts from others without any dramas, the mood is tense and becoming more so by the day. Knowing that, bow out and let the individuals who're confident they can get those facts do exactly that.

Cancer | June 20 – July 21




As a Cancerian, you're especially aware of the lunar cycle. This is particularly true now, in the run up to the Full Moon. But others are still refusing to acknowledge their struggles are based on feelings, not hard facts. Waste no time arguing. Just be there for when they must face the truth.

Leo | July 22 – August 21




One of your greatest strengths, as a Leo, is your self respect. You'd never commit to anything that would undermine that. Yet somebody seems determined to lure you into an arrangement you know you'd regret. Say 'no' now, and keep on saying it until the individual in question realises you mean business.

Virgo | August 22 – September 21




It's the rare Virgo who'll happily do anything halfway. Yet judging by the current unsettled planetary mood, even simple plans won't last long. Knowing that, try something out of character and organise arrangements you'd otherwise regard as a compromise. When they change, as they will within days, it won't matter.

Libra | September 22 – October 21




Excitement is in the air. In fact, the events prompted by the encounter between your ruler Venus and the planet of innovation, Uranus, are bound to be as thrilling as they are unexpected. The only downside is that not everybody will be as pleased as you. Ignore their complaints. In time, they'll agree.

Scorpio | October 22 – November 20




Although you seem strong, those who know you well understand that underneath there's somebody who's both vulnerable and soft-hearted. This easily wounded side of your nature could misunderstand sudden changes in the attitude of certain individuals. Instead of worrying, ask what's up. Their explanation will clear up all those doubts.

Sagittarius | November 21 – December 20




Somebody assumes that if they reorganise elements of your working life or rethink certain obligations, you'll simply go along with their decisions. The problem is, in the past you've been happy for them to handle less crucial matters. But these mean a great deal, and you want to be involved. Say so.

Capricorn | December 21 – January 19




Living with tensions with others is no fun. But it's easier than living with the dramas that discussing the issues in question would trigger. Or so you think. Actually, talking these through, once and for all, would be far easier than you imagine and take far less time than you fear.

Aquarius | January 20 – February 18




Over the past several weeks first Mercury and then the Sun encountered your ruler Uranus, triggering questions and provoking analysis. Now Venus, planet of money and relationships, encounters Uranus. This leads to a serious investigation into what, and who, is worth your time and effort, and, perhaps more crucial, what isn't.

Pisces | February 19 – March 19




Every Full Moon brings existing issues to a peak. In this particular case, it's about certain differences with others you've assumed could never be bridged. Now, between changes in circumstances and in the attitude of others, that's possible. The only stumbling block is your insistence on keeping things the way they are.

Published in The Express Tribune, April 21st, 2016.
COMMENTS
Comments are moderated and generally will be posted if they are on-topic and not abusive.
For more information, please see our Comments FAQ