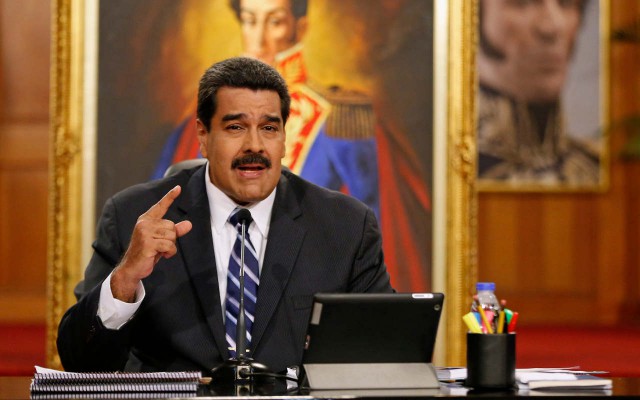 ---
CARACAS: Opponents of Venezuelan President Nicolas Maduro rallied support against him Tuesday halfway through his mandate, leaving him prey to legal measures to drive him from office.

Thousands of supporters of the center-right opposition attended gatherings in Caracas and across the country seeking a referendum on cutting his term short.

But launching a referendum is the role of the national electoral board, which the opposition accuses of being controlled by the president's allies.

Panama leaks probe: Govt, opposition spar over inquiry panel

The opposition vowed to oust Maduro when it took control of the legislature in January after winning elections, blaming him for a crippling economic crisis.

Seeking to open another front, the opposition also plans to unveil a bill in the legislature this week to cut short Maduro's term.

Maduro has successfully blocked previous bills in the National Assembly by appealing to the Supreme Court, which critics say he also controls.

He has vowed to hold on to power and press on with the socialist "revolution" launched by his late predecessor Hugo Chavez.

Addressing thousands of supporters who gathered in heavy rain Tuesday outside the presidential palace in downtown Caracas, Maduro focused most of his attacks on the opposition-controlled Parliament.

Probing Panama leaks: Govt engages opposition parties over commission, TORs

The efforts are "the spearhead of a coup that aims to once again promote North American imperialism against the revolution," he said, as Venezuela observed a holiday marking its struggle for independence.

Maduro pledged to go on an offensive in the coming three years and "ultimately defeat the treacherous oligarchy."

Observers and politicians in the South American country have warned that economic hardship and political tensions could spark violence.

"This country is a bomb that could explode," leading opposition figure Enrique Capriles said at one of the anti-Maduro gatherings.

Raza Rabbani refuses to head Panama leaks inquiry committee

Venezuela's economy has plunged along with the price of the oil on which it relies for foreign revenues. Shortages of medicines and goods such as toilet paper and cooking oil are widespread.

Maduro blames the collapse on an "economic war" by capitalists. The opposition blames his economic management.

"This assembly is going to fall," said Marjorie Cadenas, a Maduro loyalist rallying in Caracas.

"We have had three hard years of struggle against the economic war. We have come to tell the president that the people are with him."