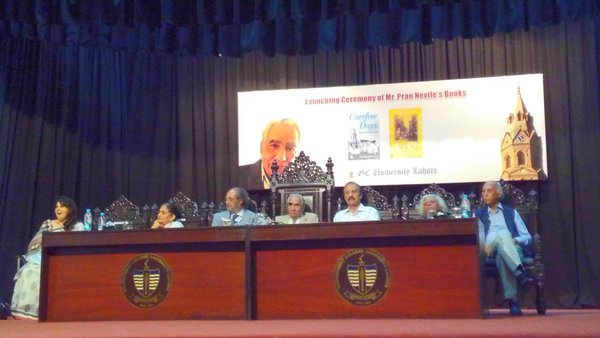 ---
LAHORE:



Lahore does not seem to have changed with time. It's beauty, magic and charm is still the same, Indian author Pran Nevile said on Tuesday.




He was speaking on the occasion of the launch of new editions of his two books – Carefree Days and Lahore – A Sentimental Journey – at the Government College University (GCU) Lahore.

When a student asked Nevile how he compared the city in its contemporary avatar with its pre-partition days, he said there could be no such comparison. "I admire the present Lahore as much as I admire the Lahore of 1930s. We must welcome and cherish change," he said.

One thing he said he missed in Lahore was the sounds of Bo-Kata heard after someone would beat another person in a kite flying competition. He said Lahoris had been passionate about kite flying. "They liked to boast about their accomplishments in the sport. It's said that the popularity of kite flying in Lahore was unmatched in any other city of the world," he said.   He said that despite the popularity of the sport public safety could not be neglected.  Nevile also commented on infrastructure development projects. He said need-based developmental changes should not be resisted or criticised unnecessarily. "Development projects cannot change the character of the city. Lahore is not merely its roads, buildings and bazaars. Its atmosphere, ambience and its people constitute the soul of the city," he said.

Nevile said that the revised edition of Lahore – A Sentimental Journey included a chapter on the Government College University and updated epilogue and afterward sections.

On the recent surge in hostility between Pakistan and India, Nevile said politics was not his area of interest. However, he said, he believed in the need for promoting positivity and love between the two nations.

Others present on the occasion were Lahore Arts Council Chairman Kamran Lashari, theatre director Madeeha Gauhar, actress Feryal Ali Gauhar, painter Dr Ajaz Anwar, plawright Shahid Mahmood Nadeem, academic Istiaq Ahmed and GCU Vice Chancellor Hassan Amir Shah. Feryal Gauhar read some extracts from Nevile's books. She said Nevile's writings took the reader to the Lahore of 1930s which was a hub of arts and literary activities. Ishtiaq Ahmed said Nevile was an ambassador of Lahore in Delhi.

He said his works had been influenced by his three experiences: early education at a school run by the Arya Samaj; the women in his life and his stay at the GCU. At GCU, he said, Nevile had experienced a truly cosmopolitan environment where students from different backgrounds lived and studied together harmoniously.

Kamran Lashari said Nevile's work could be helpful in efforts to restore the Walled City of Lahore.  GCU Vice Chancellor Hasan Amir Shah said that to the best of his knowledge Nevile was the oldest GCU alumnus alive. "I hope six years later his alma mater will get the honour of launching his new works on the occasion of his 100th birthday," he said.

Ajaz Anwar later presented a takhti, a traditional wooden board used for practicing writing, to Nevile, to show respect and honour.

Published in The Express Tribune, April 20th,  2016.