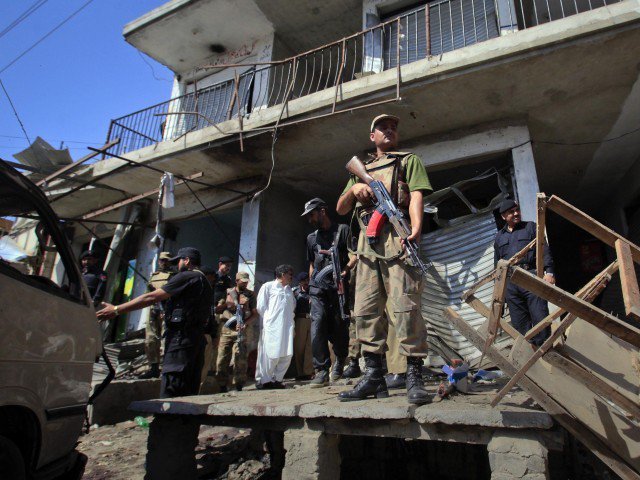 ---
PESHAWAR: There are odd patterns of violence in Khyber-Pakhtunkhwa, the scale of which is difficult to predict but always anticipated. It seems violence has been accepted as the new normal, only its intensity is contested.

Hours after a massive explosion in Kabul, Afghanistan, a suicide bomber blew himself at an excise and taxation office in Mardan. The new normal suggests there were mostly injuries and "only" one person killed.

The attack comes at a time when Awami National Party announced celebrations across the province, particularly Mardan, by its provincial president to celebrate Khyber-Pakhtunkhwa Day to mark the 18th Amendment which changed the province's name.

For over a week, security forces and law-enforcement agencies have been conducting search operations in Mardan district. The district has been under attack since a massive bombing at a NADRA centre in the last quarter of 2015. Almost all major attacks have taken place under the nose of the Mardan RPO.

Migration

Background briefings with officials and ground realities suggest one of the highest levels of threats is from Mardan. The reason being there is significant migration from surrounding localities, particularly parts of Malakand Division, to its rural areas. There, landlords do not follow the more accepted form of registering tenants with a police station before giving their properties for rent. Investigation into previous attacks shows handlers and facilitators of terrorists have mostly been hiding in these localities.

The presence of Afghan nationals is often cited as another reason. However, there is a disparity between the reasoning and actual ground realties.

In K-P, the concentration of violence has been an intermittent process from one district to another.

There was a time when Swabi almost slipped out of the government's writ and had to be cleared by a massive operation. The same was the case in Charsadda, which to date, remains highly volatile. Now, it is Mardan which was comparatively peaceful in the past.

The lack of links in policing techniques to monitor threats—perceived or real—are changing the dynamics of every district. Also, the relationship between migration and emerging crime patterns is rarely on the radar.

Meanwhile, the concentration remains on major operations – reactive in nature. In almost all cases, unawareness and lack of trust among the local populace plays a an astonishing part.

The sociocultural dynamics in peri-urban spaces and rural localities vary from those in urban areas. The apparent pattern of militants seems to be to attack cities while living on the fringes. The security paradigm surrounding cities is growing, but one way to control it is expansion and out-of-the-box thinking.

The only way to control migration and illegal settlements is not always bulldozing them, but to build more cities. The congestion in urban localities, perfect for sleeper cells, and the concentration of resources to protect them, is an additional strain.

Finally, for a policing mechanism to succeed, there needs to normalcy. The new normal cannot work.

Published in The Express Tribune, April 20th,  2016.
COMMENTS
Comments are moderated and generally will be posted if they are on-topic and not abusive.
For more information, please see our Comments FAQ