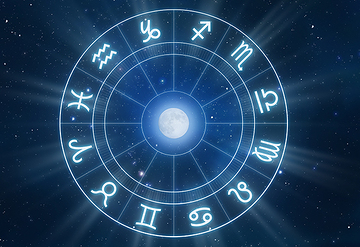 ---
Aries | March 20 – April 19


Somebody seems determined to put you on a schedule. While you're perfectly happy to make and commit to a plan, allowing anyone else to organise it is another matter entirely. At least discuss their ideas. What you hear won't just be interesting, you could learn a lot from their approach to timing.

Taurus | April 20 – May 20




Every once in a while, a misunderstanding makes you realise just how different others' views of life are from yours. However, that doesn't necessarily mean you'd talk this over. It's worth doing so. What you learn from that discussion could explain at lot and, quite possibly, resolve persistent issues.

Gemini | May 21 – June 20




One of your greatest virtues as a Gemini is your capacity to see the funny side of almost everything. Yet even you are being influenced by the glum mood now, in the run up to the Full Moon. Unappealing as discussing these matters seems, do so. What you learn could answer several persistent questions.

Cancer | June 21 – July 22




Ordinarily you're the one who'll try to keep difficult arrangements and tense alliances going, mostly because stability is of such importance to you. Yet recently you've become so impatient with the increasing complexity of certain situations, that seeing them come to an end could be a relief. That could happen, and soon.

Leo | July 23 – August 22




During this fast-paced week what only recently seemed stable arrangements are likely to change, and change again. While this is timely and, in fact, is something you've been hoping for, you're being given little opportunity to consider your options. Impractical as this seems, act swiftly now, and consider the details later.

Virgo | August 23 – September 22




Although the actual Full Moon is not for some days yet, you're already experiencing the heightened feelings that it triggers. They may be unsettling but they're also calling your attention to certain situations you care about but are neglecting. Focus on them now. You'll be amazed how much you get done.

Libra | September 23 – October 22




Obviously you'd rather not make plans until others are happy. Yet everybody seems to have their own ideas about what's best. Out of character as it may be, proceed now, despite the lack of support. Both situations and the attitude of others will change, and often, before anything is settled.

Scorpio | October 23 – November 21




Although it's clear certain changes are inevitable, you're anxious. Despite reassurance, you feel as if you're taking a leap into a void. The remedy? Think about times in the past when you struggled with similar doubts. You proceeded and everything went wonderfully. That will be the case now, as well.

Sagittarius | November 22 – December 21




The actual Full Moon doesn't take place for a day or so. Yet because it accents the most strategic portion of your chart, it's no surprise that you're already experiencing the intensified feelings triggered by periods of this nature. Don't just brush them aside. Discuss them frankly. You'll learn a lot.

Capricorn | December 22 – January 19




From your perspective, as a Capricorn, setbacks are to be overcome, and as swiftly as possible. However, with the courageous Mars going retrograde in the most strategic portion of your chart, those obstacles are calling your attention to matters that require deep thought and analysis, before you even consider taking action.

Aquarius | January 20 – February 17




Getting to know people is a pleasure. Yet, occasionally, you misunderstand their intentions. Somebody you regard as a possible friend or interesting colleague has more in mind. Actually, it seems they have a crush on you. Gently but firmly make it clear your interests lie elsewhere. Offer no further explanations.

Pisces | February 18 – March 19




Deep down, we all long for that perfect alliance, whether it's in the form of an ideal friend,  romantic or even business partner. That
individual is here. But this link is a unique one, in that their role is to shake up your thinking about your life, your priorities and your passions.

Published in The Express Tribune, April 20th,  2016.