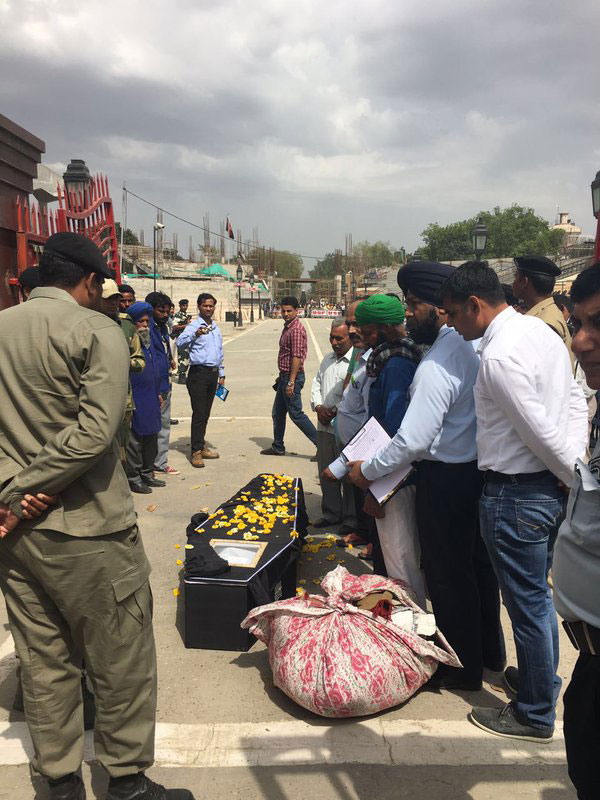 ---
Pakistan handed over to India the body of its condemned prisoner on Tuesday died in mysterious circumstances in Lahore's Kot Lakhpat jail.

According to jail sub-inspector, Kirpal Singh convicted of death sentence and imprisoned for the last 24 years, was admitted to Jinnah Hospital as his condition deteriorated.

The 50-year-old prisoner, however, could not survive and breathed his last in the intensive care unit after remained there for three hours on April 11.

The body was handed over at the Wagah border in Attari in the presence of senior officials from both the countries and family members of the deceased.

Indian prisoner dies under mysterious circumstances in Pakistani jail

According to Indian officials, the body will be handed over to the grieved family after performing a post-mortem – to be conducted "at the earliest".

Singh was arrested by the Pakistani law enforcement agencies on February 29, 1992 when he illegally crossed the border. He was charged with carrying out bomb explosions and spying. He was awarded a death sentence.

According to Ansar Burney Trust, the Indian prisoner had been missing since 1991 from Mustakhbad Saydan village in Indian Punjab's Gurdaspur district.

The trust also mentioned that as many as 490 Indian and 210 Pakistani prisoners are rotting in jails on either side of the border.

Kirpal's sister-in-law said the inmate, an ex-serviceman, inadvertently crossed over the border when drunk. With no resources, the family bore the trauma in silence.

Pakistan unable to release 'mentally ill' Indian prisoners who can't remember who they are

In March this year, the release of former Indian spy Kashmir Singh revived their hope. Kirpal's nephew met Ansar Burney at the Wagah border on April 2 to urge him to get Kirpal released.

In March 2013, another convicted Indian spy Sarabjit Singh, imprisoned on charges of explosions in Punjab, was murdered by his two fellow suspected prisoners.

The article originally appeared on NDTV.
COMMENTS (4)
Comments are moderated and generally will be posted if they are on-topic and not abusive.
For more information, please see our Comments FAQ