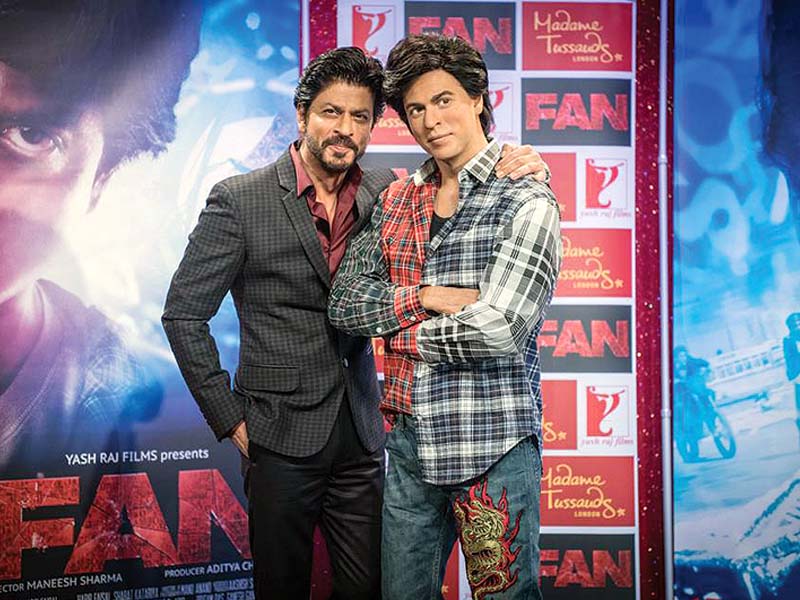 ---
KARACHI: I desperately wanted it to be a great film ­— or, at least half as great as the hype around it. But despite all the optimism in my heart, I am not sure whether I'll watch Fan again or not. It seems unlikely, not because it is a typical Shah Rukh Khan film where he steals a lot of hearts and makes some cringe at his habitual burglary of human intellect but because Fan had the potential of being a lot more than just that.

The director had the most recognisable face of Bollywood play a fan of the most recognisable face of Bollywood — a concept that lays a solid foundation for a great ego vs shadow story.  A perfect ying yang was developing until the director bowed down to conventions and turned what could have been Shah Rukh's magnum opus of the decade into nothing more than a though-out version of Duplicate. Remember the film where good and evil versions of Shah Rukh play a tug of war with Farida Jalal to prove which one of them is her real son? The evil brother manages to pull her to his side, only to be told that her real son would never have pulled his mother with so much force. Mamta and Bollywood won, at the end of the day.

5 reasons you need to watch Shah Rukh Khan's 'Fan'

Fan is obviously not as stupid but it misses being Duplicate by a whisker. Gaurav (Shah Rukh Khan) is a diehard fan of superstar Aryan Khanna (Shah Rukh Khan) and has been winning an annual look-alike competition in his neighbourhood in Delhi by mimicking Aryan's performances to perfection.  His mom and dad are equally passionate about his obsession with Aryan, so much so that they fund for him a trip to Mumbai so that he may wish Aryan on his birthday. They also pack a box of sohan halwa and the trophy Gaurav won for his Aryan impersonations.

With dreams of meeting his idol — whom he calls 'Aryan Senior' while referring to himself as 'Aryan Junior' — Gaurav waits outside Aryan's house along with a flood of people hoping to do the same. Gaurav doesn't get a chance to meet Aryan on his birthday but so much is his love for Khanna that he decides to tackle one of the upcoming actors, who had incited Khanna into a tussle, personally.

This point in the first act where that whisker also disappears. You're left with Shah Rukh the actor, taking control of a film which must have been conceived by a director called Maneesh Sharma. The conflict between the star and the fan is overtaken by all that Shah Rukh would want do in a film about Shah Rukh, with the fan just providing fuel to his fire. A major chunk of the remaining film comprises of chase sequences — three long ones to be precise — and their run time suffices for all the songs that have been avoided to make Fan a less Bollywood-esque film. But like songs in Bollywood, even the overextended chase sequences have nothing to do with the plot.

Shah Rukh Khan thanks Pakistani fans for tribute

By this time, I wasn't even surprised by this Anu Malik production of an AR Rahman melody. This was pretty clear that Shah Rukh's over-indulgence and self-obsession have taken their toll on our 'fan' moment and the story-telling of what could have been an epic journey. With all due respect to Shah Rukh — and some excellent works by him, such as Swades and Chak De India — there is a fine line between truth and fiction. You are a bigger fan of yourself and the film clearly shows that, regardless of the prism it is being seen through.  I walked out of the cinema a few minutes before the film actually ended with some wise words resonating in my mind: "For a moment, nothing happened. Then, after a second or so, nothing continued to happen." Douglas Adams, I am your fan.

Verdict: You should watch 'Fan' to validate the fact that Bollywood has such special powers that even if you try to rise above, you will eventually come down.


Published in The Express Tribune, April 20th, 2016.
Like 
Life & Style on Facebook, 
follow
@ETLifeandStyle
on Twitter for the latest in fashion, gossip and entertainment.