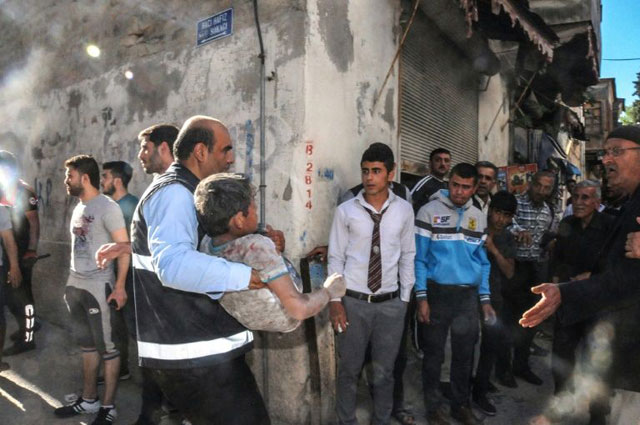 ---
ISTANBUL:
The death toll from rocket strikes on a Turkish town from an area in Syria controlled by jihadists rose to five on Tuesday after another Syrian child died in hospital, reports said.
Turkish army kills 23 Kurdish militants in clashes, air strike
Four Syrian children are now confirmed to have been killed in the strikes by Katyusha-type rockets Monday afternoon on the town of Kilis on the Syrian border, along with a Syrian shepherd, the CNN-Turk and NTV channels reported.
Erdogan wraps up Istanbul summit promoting Islamic unity
In the last weeks, Islamic State extremists have repeatedly fired rockets at Kilis, the only town in Turkey where refugees from Syria's five-year civil war now outnumber local Turks.
Last week, Kilis residents held protests over the inability of local authorities to protect them, prompting a visit by Turkey's powerful spy chief Hakan Fidan.
Turkey has responded to each of the strikes on Kilis by destroying the launching positions of the extremists with howitzer fire.
Turkish officials have repeatedly lauded the hospitality of people in Kilis towards Syrians as an example of how Turks are hosting the 2.7 million Syrians who have fled their country's civil war to Turkey.
The four children were killed, and four others were injured, when a rocket ripped through a three-storey building where nine Syrian families had been living, helped by a local association, state-run news agency Anatolia said.
US feels 'overwhelming frustration' with Israeli government: Biden
The children had lost their fathers in the civil war and had come to Turkey with their mothers around two years ago, it added.
The shepherd meanwhile was tending his flock when he was hit by another rocket which landed close to a school in Kilis. A 14-year-old Turkish boy was also injured in that attack.
At least 11 people have now been killed so far in strikes on Kilis from Syria but this was the heaviest toll recorded so far in a single day.
COMMENTS (1)
Comments are moderated and generally will be posted if they are on-topic and not abusive.
For more information, please see our Comments FAQ