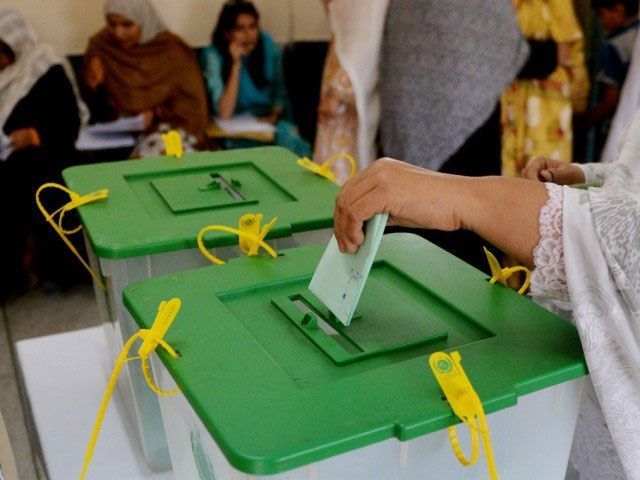 ---
The eagerly-anticipated elections for the G-B Council finally took place on Monday with candidates and voters finding few chances to cut quiet deals with the voters. The show of hands amendment had the objective of eliminating the possibility of cutting deals as had been the practice in the past. An amendment was introduced by the PML-N-led G-B government which had the clear majority in the assembly and was therefore more vulnerable to disloyalty.

LG polls on reserved seats in Sindh, Punjab postponed indefinitely

Days before the polls, G-B Chief Minister Hafeezur Rehman, who is also the party head in the region, convinced 21 PML-N lawmakers to pass the amendment to the G-B Empowerment and Self-governance Order 2009.  As a result, voters were barred from secret balloting.

In spite of the open show on Monday, the election of an independent candidate from Diamer, Syed Afzal, came as a surprise. Afzal, who is known for his skills in cutting deals, got five votes – the minimum requirement to be elected.  His voters included Imran Nadeem,  Nasreen Banu, Raja Jehanzeb, Nawaz Khan Naji and Kacho Imtiaz.

PK-8 by-elections: JI's LG representatives against favouring PTI candidate

The vote of Nadeem for Afzal was seen by some as a revolt against his party as part of some deal. Another surprise came when opposition leader Shah Baig voted in favour of ITP's Agha Syed Abbas Rizvi. The support for rival sects, regardless of how it materialised, was seen as a positive development in a region plagued by sectarian strife in the past.
COMMENTS
Comments are moderated and generally will be posted if they are on-topic and not abusive.
For more information, please see our Comments FAQ