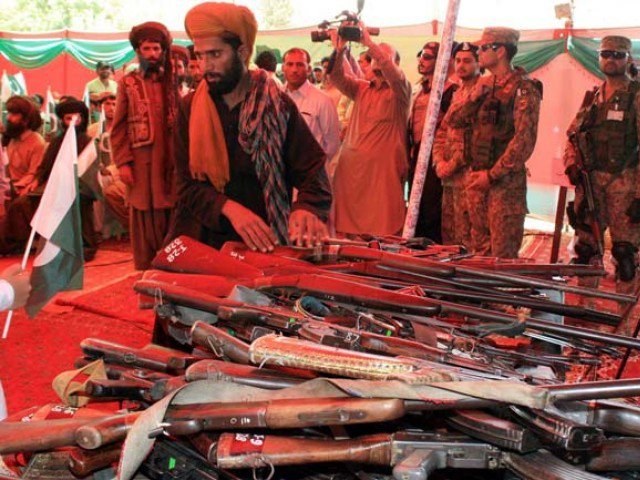 ---
QUETTA: At least 144 insurgents affiliated with banned Baloch armed groups, including four high-ranking commanders and 12 of their deputies, have laid down their arms and announced their reintegration into mainstream society.

Addressing a news conference held at the Khuzdar Press Club on Monday, the former militant commanders said they had been enticed to take part in a conflict which used 'the pretext of independence' but was actually being fought for 'some foreign agenda'. They added that they had decided to lay down their arms and would henceforth work for the prosperity and development of Pakistan.

Balochistan reconciliation: 625 insurgents surrendered in six months

Speaking to reporters, insurgent commander Mehrullah said he wanted to convey to the Baloch nation that all banned outfits in Balochistan were being funded by India and Israel.




"This is not a national struggle, but a war of interests," he said. "The Marri brothers are living a luxurious life abroad. One of the Mengal brothers is enjoying the government while the other fights against the state."

The former militant leader added that he wanted to dissociate himself from this 'so-called' war and sought apology from his Pakistan brethren.

About his own life, Mehrullah said he joined Dr Allah Nazar's Baloch Liberation Front (BLF) in 2007 and served as the 'right hand' of the group's chief until 2011, when he quit the faction over some differences. He added that he then joined Lashkar-e-Balochistan and subsequently held a high post in the group.

Insurgency in Balochistan: 49 militants surrender

Another former BLF commander, Eid Muhammad, identified himself as a cousin of Dr Nazar and said he was part of the group from 2003 to 2014. He said that he had come to realise that its struggle was misdirected and being driven by some vested interests.

Commissioner Kalat said the Balochistan government welcomes any insurgent who renounces violence and will provide them a job and free education to their children.

Published in The Express Tribune, April 19th,  2016.