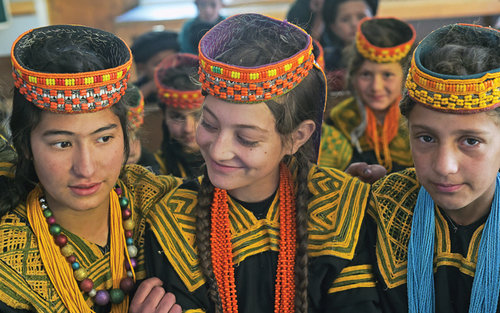 ---
LAHORE:



The Kalasha community's heritage mostly comprises oral traditions. It is the only community that still practices cultural and religious traditions indigenous to the Hindukush region. It is exposed to severe threats including climate change impacts, including natural disasters, and organised campaigns for religious conversion.




These views were shared at a presentation and a discussion arranged by the Trust for History Art and Architecture, Pakistan (THAAP) in collaboration with the Society for Cultural Education.

The event was based on the findings of a project conducted by the THAAP in collaboration with the UNESCO.

The aim of the project was to safeguard intangible cultural heritage of the Kalasha people of the Bumburet valley, Chitral.  The UNESCO includes in intangible cultural heritage of communities their oral traditions, performing arts, social practices, rituals, festive events, knowledge and practices concerning nature and the universe and the knowledge and skills to produce traditional crafts.

THAAP chief executive officer Sajida Haider Vandal stressed the need for raising awareness about the importance of safeguarding intangible cultural heritage of indigenous communities.

She said that under the project a four-week long research and field work was carried out in the Bumburet Valley. She said the team had been successful in developing an inventory of 15 intangible cultural heritage practices. Vandal hoped that the effort would help preserve the Kalasha community's culture. She said the team was also making efforts to preserve various religious practices indigenous to the region.

"We found that religious groups based in the Punjab are making organised efforts to convert the Kalasha youth. Everyone should have the right to practice their belief system," she said.

Vandal said the community was striving to be recognised under the UN's Declaration on the Rights of Indigenous Peoples (UNDIRP). She said the project could not have been implemented without cooperation from the community and hard work of the researchers.

UNESCO Country Director Vibeke Jensen said that in September 2015 UN member states had evolved a sustainable development agenda with 17 goals to be implemented across the globe by 2030.

"Cultural preservation is not specifically mentioned among the goals but there are references to conserving cultural and natural heritage," she said.

She said young people might not be willing to take forward some of the traditions of their elder generations but they should learn about them.

"We may be able to enroll all children in schools but it won't help if education is not respectful of cultural diversity," she said.

Published in The Express Tribune, April 19th, 2016.
COMMENTS
Comments are moderated and generally will be posted if they are on-topic and not abusive.
For more information, please see our Comments FAQ