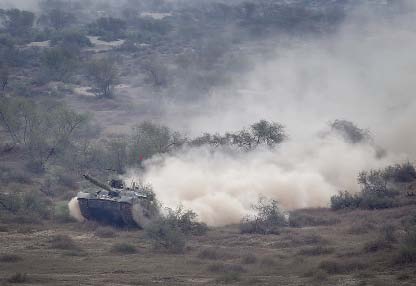 ---
MINGORA: In Swat, there's actually a bridge too far.

It spans over the Swat river and connects the city of Mingora to Kanju. On December 5, 2008, a suicide bomber blew himself up on this bridge as he tried to approach a military installation on the other side, damaging its structure. Sixteen months later, the bridge has not been reconstructed. Instead, traffic rumbles along a makeshift pathway over a temporary structure.

In summers, when the river level rises, this rock-strewn passage gets submerged, thereby cutting off Mingora from Kanju. This ten-minute car ride now takes a few hours when the residents are forced to take an alternate route. This is a classic example of bureaucratic lethargy. The government may be held hostage by its own red tape, but the residents here are bristling with resentment.

But this doesn't deter them from snatching normalcy from the jaws of fear. For nearly two years, the local population was brutalised by the Taliban. CD outlets, cinemas and barber shops were nailed shut. Anyone who dared defy the diktat ended up with a bullet in his head. Decapitated bodies were strung up on steel poles and corpses were thrown at intersections to rot for days.

Fear rolled down the hills hung like a thick fog over the entire area. It's different now. CD shops are doing roaring business, and the lone cinema is running to capacity crowds. I went to catch the matinee show, a Pushto film with the usual screaming villains and gyrating heroines. Inside the dark hall, men filled every seat, their eyes riveted to the silver screen.

Every now and then, the darkness would be punctuated with a flaring match as one more cigarette was lit up. When the song and dance routine started, the crowd erupted in whistles and catcalls. I was witnessing some serious catharsis in this packed hall. But all isn't well. Swat is faced with multiple challenges as it struggles to get back on its feet.

At the centre of it all is the army. For the time being, it dominates life here in every way. Nothing can happen without the approval of the military, official claims notwithstanding. In a way this is natural because the military is responsible for all security matters, and these matters retain the highest priority. However, a year is a long enough time for the civilian administration to have taken over responsibility for day-to-day affairs. This hasn't happened.

Some say the civilian administration has failed to develop the capacity and capability for managing a battered place like Swat. Others say the military is refusing to loosen its grip and let the civilians take over the responsibilities which fall in the government's domain. Whatever the case, the bitter reality is that this transition has not happened as yet. This does not bode well for system consolidation.

The same process will need to be replicated in South Waziristan once the internally displaced persons start to return. Army chief General Ashfaq Parvez Kayani had himself talked about the importance of armyto- civilian transition in areas where military operations had been conducted. But if this transition is not taking place smoothly in Swat, similar problems will also crop up in South Waziristan when the time comes. Making this transition happen should be the highest priority right now both for the military and the provincial government.

Then there's the issue of unfulfilled commitments. Prime Minister Yousaf Raza Gilani visited Swat on August 10, 2009 and announced a development package worth Rs50 billion. He also promised a double road from Dargai to Kalam and a training institute for BA qualified youth. Swat still awaits concrete action. Nizam-e-Adl was implemented here before the start of the operation. According to the document, Dar-ul-Qaza or a High Court bench was to be established for Swat.

This has been a long-standing demand of the people and they were expecting that finally they would get prompt justice at their doorsteps. As yet, there is no sign of the bench being set up. Senior lawyers told me they were getting more disillusioned with each passing day. Neither the provincial government, nor the judiciary has given any solid explanation for this inexplicable delay. Beyond all this of course is the primary issue of maintaining security. The Taliban network may have been smashed, but some cells are clearly still active.

Last month, five people, including heads of civil defence committees, were gunned down in Kabal area. A local nazim was also murdered and some CD shops were also attacked. Recently, a police vehicle was attacked with grenades and four policemen were injured. On May 1, a suicide bomber blew himself up as he was chased by army personnel in a crowded street. Three people were killed and many injured.

Fear still lurks in the shadows. But so does hope. It is this strange mix which to me defines the Swat of today. If the military and civil authorities are able to overcome these challenges, this war-ravaged region can experience a revival that its people so desperately need.