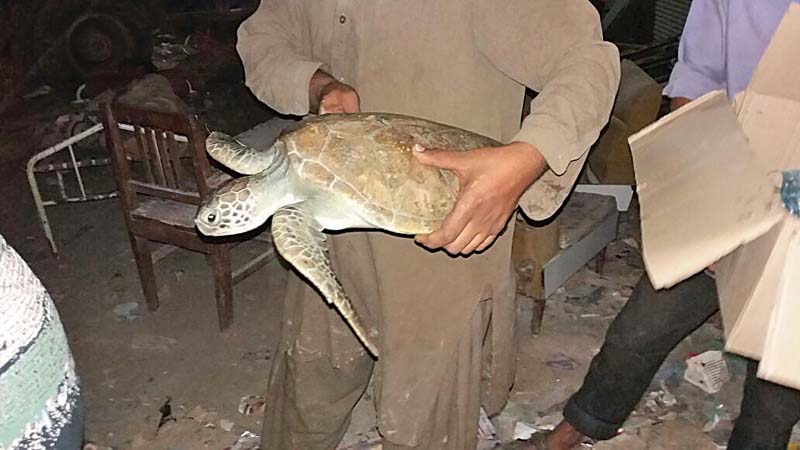 ---
KARACHI: A marine turtle was rescued from a dirty water tank at a construction site in Kharadar late Sunday evening.

The turtle was rescued by Home Four Paw and Claw, a volunteer contractor for Edhi Foundation, which was informed of the turtle's presence at the construction site by a child named Ahsan.

Speaking to The Express Tribune, head of rescue Mustafa Ahmed said the site is an open plot near Tower area where construction is taking place. "The kid informed us and we went to look into the matter.

62 turtles, 55 of them dead, handed over to wildlife dept

It was indeed a turtle in a slimy green tank that was riddled with mosquitoes," he described. Ahmed said their team contacted both WWF and the Sindh wildlife department for help but no one responded. According to him, they rescued the turtle and put him in fresh-water immediately.




Ahmed said that since no one from the two departments responded, they got in touch with Mansoor Qazi, the former director of the Karachi zoo. "He advised us throughout in identifying the turtle species and suggested measures for its recovery," explained Ahmed.

He said the turtle is an endangered species. "Its shell is rare and is mainly used in the manufacturing of swords for its strong grip," he said.

Ahmed claimed that the turtle had been lying in the water tank for at least 15 days and one could see the water was plagued with mosquitoes, slime and dirt.

"It can be said that it was smuggled because it was a rare type. Plus it's illegal to keep them as pets. Someone just tried to get rid of it by throwing it in such dirty water," he speculated.

Although standard protocol requires taking the rescued animal to a vet for a checkup before its release in water, Ahmed admitted they had no time. "On Qazi's advice and our own observation of its good health, we released the turtle at Do Darya," he said.

"All those present at the construction site were ignorant about the presence of a turtle in the tank. They said they don't know anything about it nor did they care," said Ahmed.

On the other hand, Adnan Mehmood, the incharge of marine conservation at the Sindh wildlife department, denied he was contacted by Home Four Paw and Claw.

"It's not in my knowledge that a turtle was rescued from a private property yesterday," he said, blaming the organisation for running false campaigns and placing responsibility on the Sindh wildlife department.

Fisherman nets rare sea turtle

"If it was a marine turtle, it is not possible that it could have survived in a fresh water tank beyond two to three days," he explained.

He said that rescued turtles have to be quarantined before being released into their natural habitats. "There is a proper procedure for it. Unless the relevant people are arrested and punished not much can be done about this situation," he said. Officials from WWF could not be reached for comments, despite several attempts by The Express Tribune.

Published in The Express Tribune, April 19th,  2016.