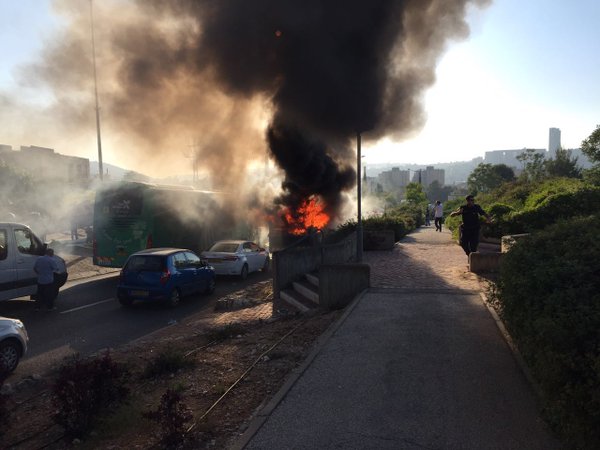 ---
JERUSALEM: A fire ripped through a bus in Jerusalem on Monday, Israeli police said, with medics reporting an explosion and at least 16 people wounded.

Police initially said there was "an attack" without providing further details before later saying all causes were being investigated.


BREAKING: Explosion on bus in Jerusalem. Initial reports indicate 20 wounded #Israel - @News_Executivepic.twitter.com/9TNFLkX2DG

— Conflict News (@Conflicts) April 18, 2016


The bus appeared to have been empty at the time, the police said, with the wounded apparently on another bus situated next to it.

Israel says finds tunnel from Gaza into Israeli territory

"A bus travelling from southern Jerusalem reached Moshe Baram street," a police statement said.

"There was apparently an explosion and the bus started burning. Another bus nearby and a private car were also hit."

Rescue service Magen David Adom reported the explosion and at least 16 wounded, including two seriously.

Most of the injuries were said to be burn wounds and smoke inhalation.

An AFP journalist at the scene said one bus was completely burnt out while another was partially burned, with a large contingent of firefighters battling to extinguish the blaze.

The incident comes with tensions high following a wave of violence that began in October which has killed 201 Palestinians and 28 Israelis.

Ageing Israel accords harm Palestinian economy: World Bank

Most of the Palestinians killed were carrying out knife, gun or car-ramming attacks, according to Israeli authorities.

A bus bombing would mark a significant escalation in the violence.

The attacks have steadily declined in recent weeks, though there have been concerns that the Passover holiday beginning April 22 could lead to a new surge in violence.