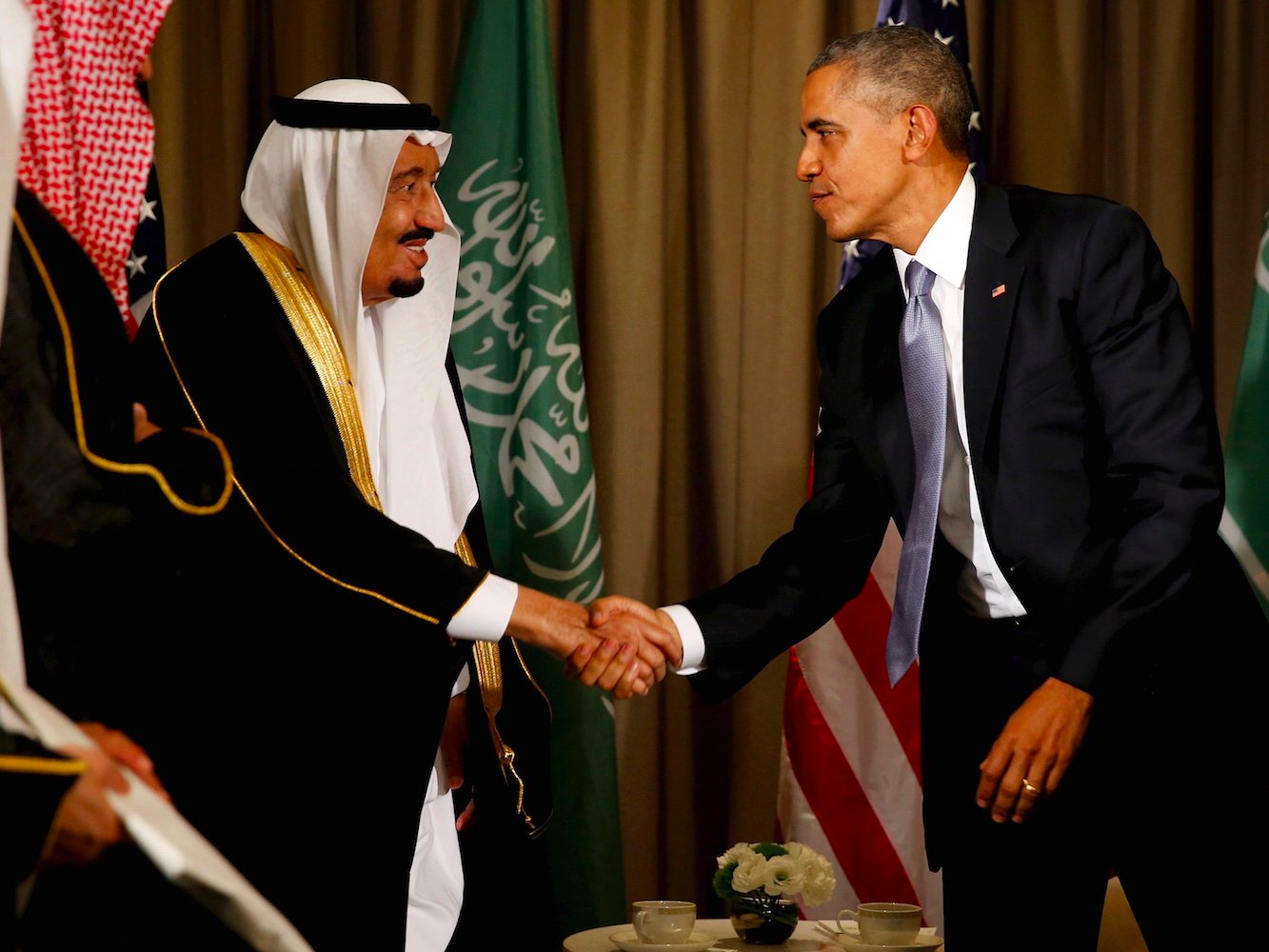 ---
WASHINGTON: President Barack Obama will make another trip to Riyadh to consult Washington's Gulf allies on the crises in Yemen and Syria this week, but may not receive a royal welcome.

The king of Saudi Arabia and his regional allies have long been offended by the US president's tone and actions, and are now impatient to meet his eventual successor.

Even before coming to office, Obama had dubbed Saudi Arabia a "so-called ally" and had made clear that his diplomatic priorities would be in Asia not the Middle East.

Obama's perception of Pakistan

He rubbed salt on those wounds by standing by as Saudi ally Hosni Mubarak was ousted in Egypt, then by his reluctance to back a similar revolt against Syria's Bashar al-Assad.

And, most crucially for the Sunni monarchies, he cut a deal with Shiite power Iran to end its economic and diplomatic isolation in return for curbs of its nuclear program.

So the public pomp of his visit on Wednesday to King Salman, will conceal much behind-the-scenes bitterness.

Then, on Thursday, he will face a stern audience at the Gulf Cooperation Council summit of leaders from Saudi Arabia, Bahrein, Kuwait, the UAE, Qatar and Oman.

Last year, he brought the same monarchs together on his own home turf at Camp David outside Washington -- and the Saudi ruler pointedly refused the invitation.

Senior Saudi royal criticises Obama

Then, Obama had wanted to ensure the traditional US allies were on board with his plans to fight the Islamic State group, and reassure them on his outreach to Tehran.

But now with barely nine months of his time in office left -- and Iran taunting the Gulf with its support of Shiite militancy abroad -- he has little leverage over them.

"We don't know why he's coming," said Mustafa Alani, of the Gulf Research Centre.

Alani and other friends of Riyadh in Washington were deeply offended by Obama's remarks on US policy in their region in a major article in The Atlantic magazine.

In interviews for the article, published last month by reporter Jeffrey Goldberg, Obama rejected the idea that Saudi foe Iran is the source of all the region's problems.

Saudi officials have long insisted that Iran's sponsorship of Hezbollah in Lebanon, militias in Iraq and Syria and the Huthi rebels in Yemen is a threat to the whole world.

And, rightly or wrongly, Riyadh sees Iran's hand behind agitation among the kingdom's own Shiite minority, a notion that helped inspire its own harsh crackdown on dissent.

Aziz hits back at Obama over negative Pakistan forecast

While regularly denouncing Iran's "destabilizing activities," Obama insists that both sides should evolve.

And he told The Atlantic that both Tehran and Riyadh "need to find an effective way to share the neighborhood and institute some sort of cold peace."

The United States has long been an enemy of Iran and a friend of the Saudis, and any suggestion that Washington is seeking a balance of power is anathema in the Gulf.

With this week's difficult visit looming, US officials have been rolled out to make soothing gestures.

"I don't think there can be any confusion about who is our partner in the region and who is not," Obama's senior advisor for the Gulf, Rob Malley, said.

"It's clear who our allies and who are partners are," he insisted.

"But if there can be a different relationship between the GCC and Iran, it's the president's conviction that is good for the region and good for stability overall."

And the White House is keen to emphasize that, despite tensions, the allies worked together to support the still embryonic ceasefires in the wars in Syria and Yemen.

Nevertheless, with whatever gains there have been in ending these brutal conflicts, the minds of the Gulf leaders have already turned to the United States' November election.

Then, they hope, the eventual victor might be someone who returns to the assumptions of previous presidents, both Democrats and Republicans, about Middle East priorities.

In this, they may well be disappointed.

"Our Gulf partners would obviously welcome a return to the old relationship," said Lori Plotkin Boghardt, a former CIA analyst at the Washington Institute for Near East Policy.

"But the region has changed so much, it would be a lot more complicated. Many of them fundamentally want to put Iran back in the box and give it again its pariah status."

And another dark cloud hovers on the horizon.

The US Congress is considering legislation that would allow the families of victims of the September 11, 2001 attacks to sue the Saudi government for damages.

No official complicity in the Al-Qaeda attacks has been proven, and the White House opposes the draft law, but the Saudi government is outraged to even see it considered.