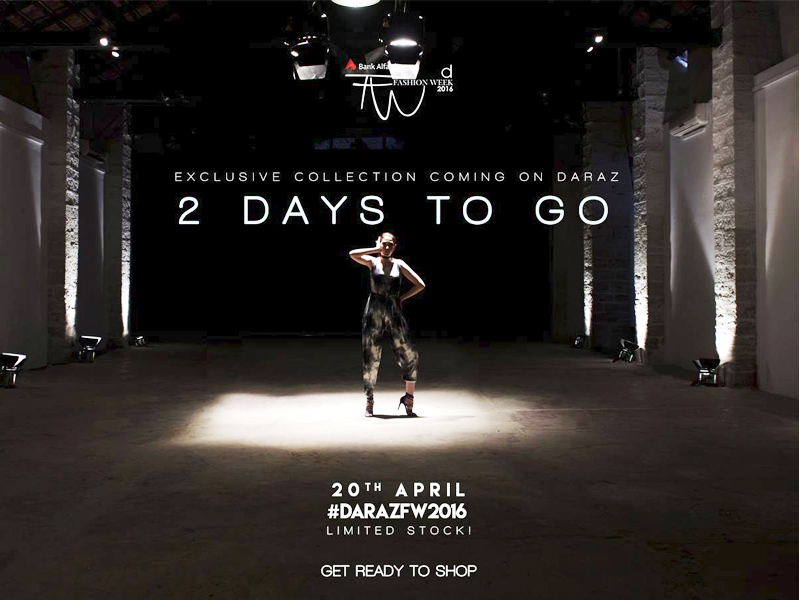 ---
High-end designers want to connect with the everyday consumers and Daraz.pk wants to be the entity that makes that connect. Clothes will go live on the website as soon as they hit the runway - there will be no delay. The Daraz Fashion Show will not be streamed live on the website; however, there will be a live social media stream throughout the show. On the website, looks will be available for purchase as soon as they hit the runway and videos with designer looks will be available the next day.

Speaking about the fashion week, Saman Javed, Head of Corporate Communications Daraz.pk said,

"We got a super positive response from all the designers and that is when we knew that we are all set to revolutionize the fashion industry - with such big names by your side, you know you're doing something right."

Daraz is offering all high-end designer wear at incredibly low prices (starting Rs 3,000) - people who can usually afford designer wear and people who can't afford designer wear on a regular day - everyone will be ready with their phones and desktops to score the latest designer looks.

"Stock will be limited, the exclusivity and scarcity is what will make these collections even more desirable, people definitely need to rush to buy things, we are expecting 1 million people on our website to avail the best branded wear - may the fastest fingers win," she said.

The shopping experience on Daraz is hassle free and enjoyable - all it takes is a few clicks to place your order, a new customer will not have any trouble shopping online.

"You just have to keep an eye-out for your favourite looks, click click click and have the desired outfit delivered from the runway to your doorstep within 24 hours," she added.

When asked if there are any surprises on the runway, Javed said,

"We have lots of exciting things planned - people will just have to wait for April 20th to find out! No spoilers!"
This is what the designers have to say on the Daraz Fashion Week.
Feeha Jamshed
"Collaborating with Daraz will make our brand accessible to a lot of areas that we are unable to reach on our own. We are very excited about this event. We hope that people appreciate our work and are more aware of the fashion we are bringing to them."
Deepak Perwani
"My team and I are super excited – it certainly feels great to be a part of this event. We have been wanting to tap into the affordable market for quite some time now and there couldn't have been a better opportunity for us to infiltrate the masses."
Tena Durrani
"I love how it's making designer fashion accessible to the larger market. It's a great initiative and I love being a part of anything new that would take Pakistan's fashion scene to newer heights. We want to reach out to the youth through a platform like Daraz."
Zara Shahjahan
"Daraz has made a mark in Pakistan for being one of the most reliable shopping e-retailers and has garnered a large customer base and we are Pakistan's largest fashion/lifestyle brand. This venture is a win-win for both of us, as it will allow Daraz.pk to engage a large audience to buy exclusive designer-wear collections and give Pakistan's most eminent brands exposure and accessibility to the masses. It's the first time that Pakistani fashion will truly witness runway-to-reality and since we champion 'breaking out of the box', we are thrilled to be a part of this venture!"
Generation
"Reaching out to the masses and giving them a chance to see and purchase complete looks."
Bank Alfalah Rising Talent Hamza Bokhari
"We are super excited to be a part of the country's biggest online retail store and to expand our target audience through this arena. Through this event we will be reaching to a different target audience and exploring various demographics."
Amir Adnan
"It's simply a huge platform with no boundaries. Catering to all of Pakistan is what I am aiming for and Daraz can provide me with exactly that."