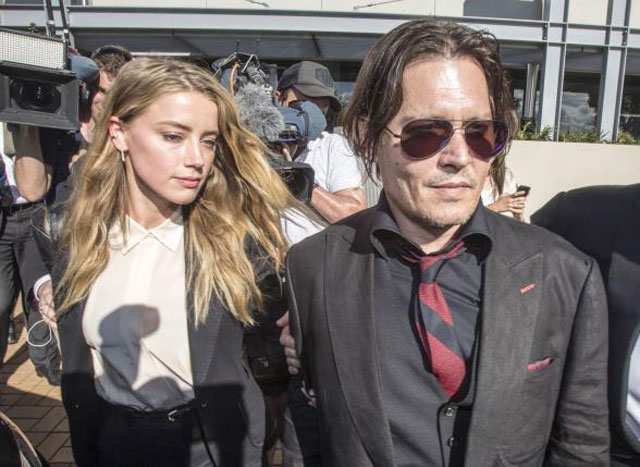 ---
SYDNEY: An Australian court let off the actress wife of Hollywood star Johnny Depp with a good behavior bond after she pleaded guilty to falsifying travel documents to sneak two pet dogs into the country.

SAG Awards: Actors of colour win big amid #OscarsSoWhite furor

Depp accompanied his wife, Amber Heard, for the hearing at a packed courthouse in the Southport magistrates court, near where he had been shooting a Pirates of the Caribbean sequel when the scandal erupted last year.

Bringing an end to what the Australian media had gleefully dubbed the "war on terrier", a magistrate filed no conviction for Heard but issued a formal order to stay out of trouble for a month or face a $767 fine.

Heard, 29, had faced charges of illegally importing animals after authorities accused the couple of flying their Yorkshire Terriers, Pistol and Boo, into the country without going through proper quarantine procedures.

But on Monday, the court learned that state prosecutors agreed to drop those charges when Heard pleaded guilty to a lesser charge of lying on an incoming passenger form when entering the country to visit Depp on set last year.

For the A-list couple, the result is a reassuringly un-Hollywood ending to their brush with Australia's notoriously tough quarantine laws.

The original charges against Heard carried a prison sentence of up to 10 years and a fine.

The ruling also drew a line under the unlikely diplomatic tangle between the celebrity pair and Deputy Prime Minister Barnaby Joyce, who in his capacity as farm minister threatened to have the dogs put down if Depp and Heard did not remove them.

Depp made no comments before entering the courthouse other than brief pleasantries to waiting media.

In court, Heard's lawyers played a video apology in which the expressionless couple praised Australia's biosecurity rules and Depp noted that "if you disrespect Australian law, they will tell you firmly".

Heard added, in the video, that Australia was "a wonderful island" and she was "truly sorry that Pistol and Boo were not declared" because "protecting Australia is important".

Heard's lawyer, Jeremy Kirk, told the court his client was jetlagged and worried about a hand injury Depp received on set, and believed all appropriate arrangements in relation to the dogs had been made.

"She has made a tired, terrible mistake," he said.

For Joyce, the result also represents a win since it vindicates the rural politician's decision to go public with his complaint about the couple's violation of the country's animal import laws. He faces a general election on July, with opinion polls showing support for the government sinking.

The best and worst dressed at 2016 Grammys

In a statement, Joyce said he appreciated Heard's "willingness to take responsibility for her actions" and "acknowledgement that she broke our national biosecurity laws".