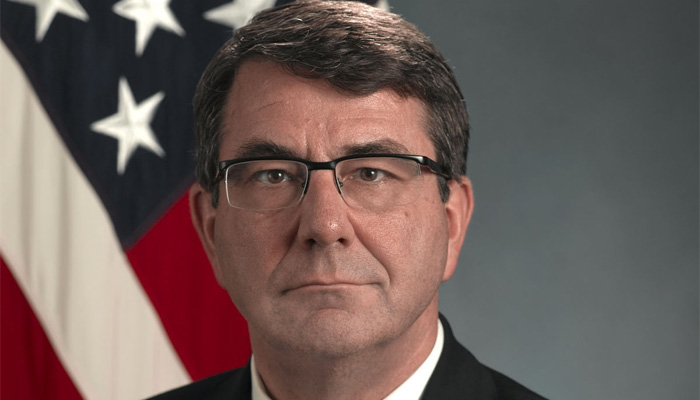 ---
BAGHDAD: US Secretary of Defence Ashton Carter made an unannounced visit to Baghdad on Monday for talks with Iraqi officials on the war against the Islamic State jihadist group.

Carter's visit comes after a week of political turmoil that has been a setback for Prime Minister Haider al-Abadi, and the US defence chief has said it is important to support the embattled premier.

The US is leading an international coalition that is carrying out strikes against IS and also providing training and other assistance to forces fighting the jihadists in both Iraq and neighbouring Syria.

Carter will meet officials including Abadi and Defence Minister Khaled al-Obeidi to discuss increasing American military assistance to Iraq ahead of the key battle for second city Mosul.

"The fight for Mosul is critical... and it's a very large urban scenario," a senior defence official said.

"We are going to need to be more aggressive," the official said.

Carter arrived in Baghdad from the United Arab Emirates, the first stop on a Gulf tour during which he will seek to shore up support for Iraq.

He has said that "the success of the campaign against (IS) in Iraq does depend upon political and economic progress as well," and that "it's important that we continue to support" Abadi.

The premier has sought to replace the current cabinet of party-affiliated ministers with a government of technocrats, but has faced major opposition from powerful parties that rely on control of ministries for patronage and funds.

Abadi's cabinet efforts were overshadowed by multiple days of chaos at parliament, where lawmakers held a sit-in, brawled in the parliament hall and sought to sack the speaker.

In addition to major security and political challenges, Iraq also faces a serious economic crisis caused by low oil prices and years of mismanagement and corruption by officials.

IS overran large areas north and west of Baghdad in 2014, but Iraqi forces have since regained significant ground from the jihadists.

Iraqi forces have begun preparatory operations in Nineveh province, of which Mosul is the capital, but the actual assault to take the city is not expected to take place for months, and possibly not until next year.

The United States has deployed some 3,900 troops to Iraq, most of them in advisory and support roles.

But Washington has also sent special forces to carry out raids against IS, and US Marines have deployed to provide artillery support to Iraqi troops.

President Barack Obama repeatedly pledged that there would be no "boots on the ground" to combat IS, but US forces are engaged in combat with the jihadists and two American military personnel have already been killed.

An American Marine was killed in a rocket attack in northern Iraq last month, and a US special forces soldier was wounded during a raid last year and later died.

Carter's trip to Iraq is the latest in a series of visits by senior Western officials in recent days.

US Secretary of State John Kerry travelled to Iraq two weeks ago to show support for the crisis-hit government, vowing to turn up the heat on IS.

And French Defence Minister Jean-Yves Le Drian came to Iraq last week, saying that Mosul and Raqa, IS's main stronghold in Syria, "must fall" this year.