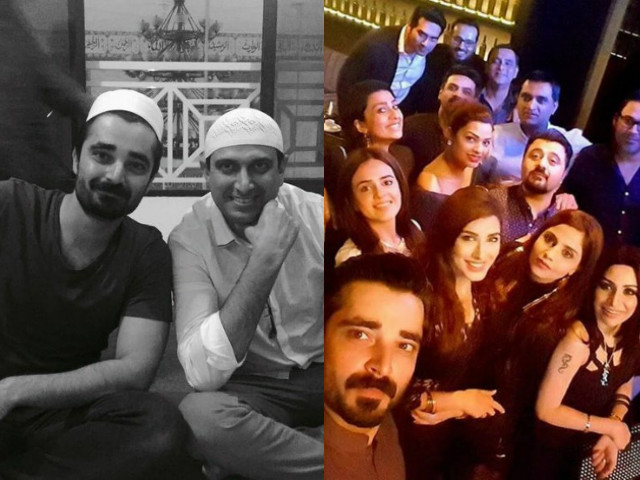 ---
Hamza Ali Abbasi is back with another head-scratching post on Facebook. This time around, the Pyaare Afzal actor took to the social networking website to draw a comparison between 'maulvis' and 'liberals.'

His conclusion: Maulvis are better than "so-called progressive liberal modern class". Why, you may ask? Apparently because 'maulvis' don't judge him for being an actor who likes to discuss religion.

The social media sensation, who was earlier condemned for preaching morality and religion post his item number in Jawani Phir Nahi Ani, started off by recalling he has been 'mocked' numerous times by liberals. "Many among the tolerant, the modern and liberal Pakistanis have often mocked me for talking about religion, against item numbers and yet being present at award shows," he wrote.

He then went on to hold the so-called liberals responsible for forcing people to pick sides. "They force you to take one side, as if you have to be a maulvi to even mention religion."

https://www.instagram.com/p/BERppVtR8a5/

7 best moments from ARY Film Awards 2016

"However, I have never experienced such insecurity and mockery when I visit any mosque or madrassa. Never has a maulvi ever said to me that "tum actor ho, masjid mein kiya ker rahay ho". I have seen more open minds & tolerance in those bearded men and hijabi women than in the so called progressive liberal modern class," he added.






You liberals!




The Mann Mayal actor also seems to have struck a chord with musician-turned-scholar, Junaid Jamshed, who was all praise for Hamza. "Listening to Hamza Ali Abbasi about religion was a revelation. Mashallah," Junaid tweeted.


Listening to Hamza Ali Abbasi about religion was a revelation . Mashallah.
My friend Maj Noman also came along pic.twitter.com/3gijum5mwY

— Junaid Jamshed (@JunaidJamshedPK) April 14, 2016


Hamza Ali Abbasi tea-ses Fawad Khan in this new TVC

Earlier, Hamza had taken to Facebook to share his life-changing experience. "In a mosque/madrassa in Islamabad, where hundreds of bearded men and hijabi women were gathered, I, an actor, a person from media, shared and discussed religious matters," wrote Hamza in his post on April 14.

"We agreed and disagreed and had a great time yet none of these "maulvis" branded me a hypocrite for talking about religion while being an actor, no one called me a miraasi, nobody thought my input was any less than theirs.

"I was shown utmost love and respect and they valued my input on Islam. To those who bash maulvis all the time, maybe sometimes we can learn a lot about tolerance from these 'maulvis'," he added.

Hamza Ali Abbasi turns social media into a war zone

While Hamza may have thought people would have learnt a thing or two with his inspirational post, it didn't stop the organisers at the recently held Ary Film Awards in Dubai from picking on him. The actor was humorously given the 'Qandeel Baloch Award' for his attention-seeking antics on social media.

https://www.instagram.com/p/BETUwzuybSH/

https://www.instagram.com/p/BERL98Hx8ca/
COMMENTS (22)
Comments are moderated and generally will be posted if they are on-topic and not abusive.
For more information, please see our Comments FAQ