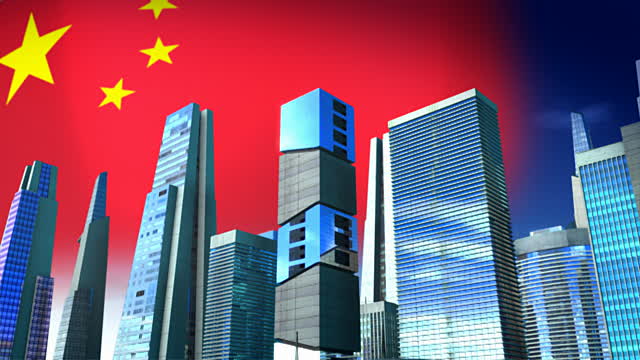 ---
BEIJING: China's economy grew in the first three months of 2016 at its slowest quarter-on-quarter rate since it began releasing the data, the government said, while the real-estate sector rebounded thanks to aggressive stimulus.

The world's second-largest economy expanded 1.1 percent in January-March over the last quarter of 2015, the slowest pace since it started publishing such statistics in early 2011. The result follows 1.5 percent growth in the previous three months and 1.8 percent in July-September.

All on board: Minister reiterates commitment to CPEC

The figures came after the National Bureau of Statistics published its on-year figures Friday, which matched expectations, while foreacst-beating March data offered signs of recovery in the Asian economic giant.

The recovery of the property sector -- long a pillar of China's economy -- helped to fuel growth, analysts said, as real-estate services grew 9.1 percent year-over-year, accounting for 6.8 percent of GDP.

The data show that China has returned to "property-led growth" and suggest "recent growth momentum has been underpinned by the resurgence of (the) 'old economy'" ANZ analysts said in a note Monday.

China's leaders are looking to manage a difficult transition away from the investment- and export-led model of the past to an economy more driven by consumer demand, but the change is proving bumpy and global markets have fretted over the outlook.

Is Pakistan really a dream destination for China?

"The improvement of growth momentum is mainly driven by faster property investment, which is driven by policy easing and strong property sales," said Zhao Yang of Nomura. However, he added that analysts "do not expect the property market rally to last for very long" because policy easing has reached its limits.

"We believe it will be short-lived, as the oversupply in small cities' housing market has not changed yet and the government has started to tighten policies toward property market in big cities," he said.

Bank lending exploded in March, with aggregate financing coming in at 2.34 trillion yuan ($360 million), booming from 780.2 billion yuan the month before.

China economy posts weakest growth since 2009 but recovery signs emerge

Fiscal and monetary stimulus so far this year "are stronger than we expected," Zhao said, noting that banks' balance sheet growth has been "much stronger" than official data for money supply, suggesting the figures "underestimate the pace of credit expansion".

Beijing appeared to have reverted to "the old way to boost economic growth, relying on property investment and infrastructure investment," Zhao said, boosting short-term growth but further delaying necessary structural rebalancing and reform.

NBS data showed that the financial sector's first-quarter growth fell from 15.9 percent  last year -- when the stock market was booming --- to 8.1 percent this year.

China's extended lunar new year holiday always falls in the first quarter and the period frequently shows some of the slowest quarter-on-quarter growth of the year.