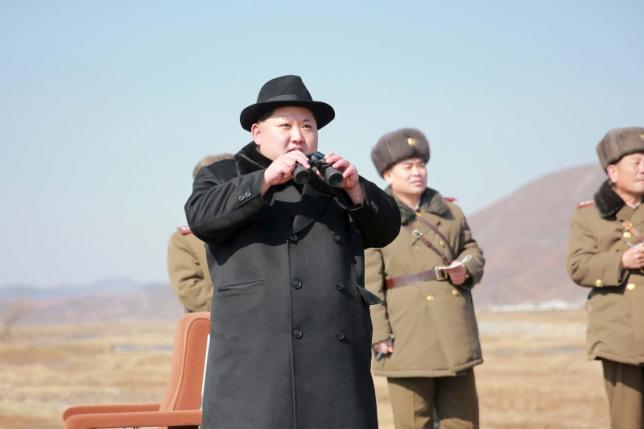 ---
SEOUL: South Korean President Park Geun-Hye on Monday confirmed a flurry of intelligence reports suggesting that North Korea is readying to conduct a fifth nuclear test in defiance of tightened UN sanctions.

"Signs that it is preparing a fifth nuclear test have recently been detected," Park told a cabinet meeting.

Her remarks followed South Korean media reports in which unnamed government and intelligence officials spoke of a spike in activity at the North's Punggye-ri nuclear test site.

Preparations in 'final stages' for North Korea nuclear test: report

A fresh test would see Pyongyang doubling down in the face of tough sanctions adopted by the UN Security Council following its last nuclear test in January, and would throw down a gauntlet to the international community as it struggles to find new ways to curb the North's nuclear ambitions.

North Korea is gearing up for a rare and much-hyped ruling party congress early next month, at which leader Kim Jong-Un is expected to take credit for pushing the country's nuclear weapons programme to new heights.

Numerous analysts have suggested the regime might carry out a fifth nuclear test as a display of defiance and strength just before the congress opens.

North Korea missile launch fails in embarrassing setback for leader Kim

"It is uncertain what kind of unexpected provocations it would stage," Park said at the cabinet meeting.

The South Korean Defence Ministry said it was alert to the likelihood of a fifth test.

"Given current activities, we believe that there is a possibility that the North may stage an underground nuclear test, and are monitoring the situation accordingly," ministry spokesman Moon Sang-Gyun told reporters.

Tension has been high on the divided peninsula since the North conducted its fourth nuclear test in January and a rocket launch a month later that was widely seen as a disguised ballistic missile test.

The UN Security Council responded by imposing its strongest sanctions to date over the North's nuclear weapons programme.

North Korea threatens nuclear test, defying UN

Pyongyang has responded defiantly, staging a series of short- and mid-range missile tests and claiming a series of significant technical breakthroughs in its nuclear strike capability.

It claimed it had miniaturised a nuclear warhead to fit on a missile and successfully tested an engine designed for an inter-continental ballistic missile that could reach the mainland US.

While some experts say the claims are exaggerated, most acknowledge that the North's nuclear and ballistic missile programmes have made significant strides.