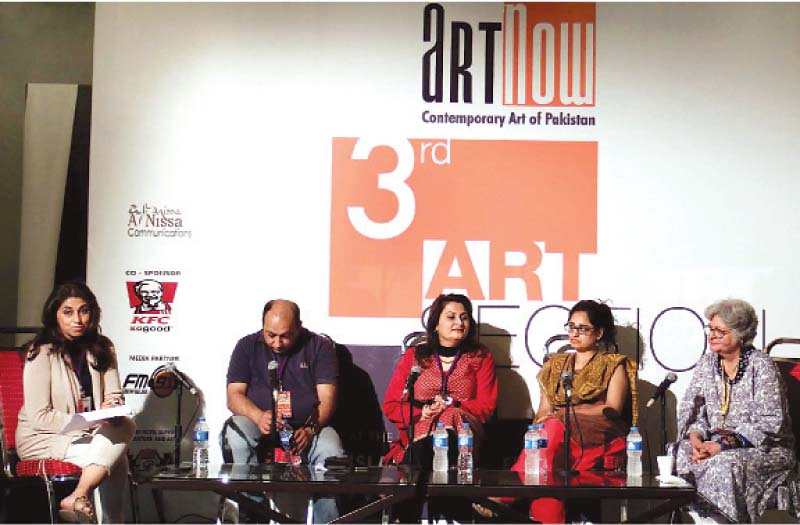 ---
ISLAMABAD: Women artists have themselves challenged the historical objectification of women in art in Pakistan, by addressing issues of sex, gender and politics, panelists of a discussion said here on Sunday.

They were speaking at the session, "Translating Gender", at the Islamabad Literature Festival (ILF).

Ayesha Durrani, miniature artist, explained her work, while presenting it, saying that though miniature art has historically presented female form exotically and as objects of desire, she has tried to break away from this practice in her work.

She highlighted that she drew headless women in most of her work to demonstrate how the society did not expect women to "have brains".

Bringing up the political discourse that is attached to the representation of women in art, Saleema Hashmi, art critic and curator, said that the representation of women in art had been changing since the late 1970s as a reaction to the oppressive regime of that era, citing the Hudood ordinance as one of the main instigators.

She said that it was important to come to the topic of women rights from a position of human rights.

Hashmi said, "It is important to remember that art history, that we received, comes from men and European men."

Farida Batool, artist and activist, talked extensively about using the imagery of the female body.

She said that women's bodies were battlegrounds because of the patriarchy in society.

Batool said, "I see the world through my body. I grew up in a society where I was very aware of my body", which comes across in her work.

She observed that there was a dichotomy in the country where we simultaneously equate the country with a mother, yet deny women their rights.

Art curator, Aasim Akhter, indicated to the point in history when women began to redefine representation of art.

He said, "with the second military rule – the longest spell of despotism, as we remember it – from late 1970s to late 1980s, female voices came as a cry of rebellion against the status quo; which is when, I believe, the personal became the political."

The artists also agreed, along with the audience, that the government negligence towards the artists had resulted in the market dictating the artistic discourse in the country.

Published in The Express Tribune, April 18th,  2016.