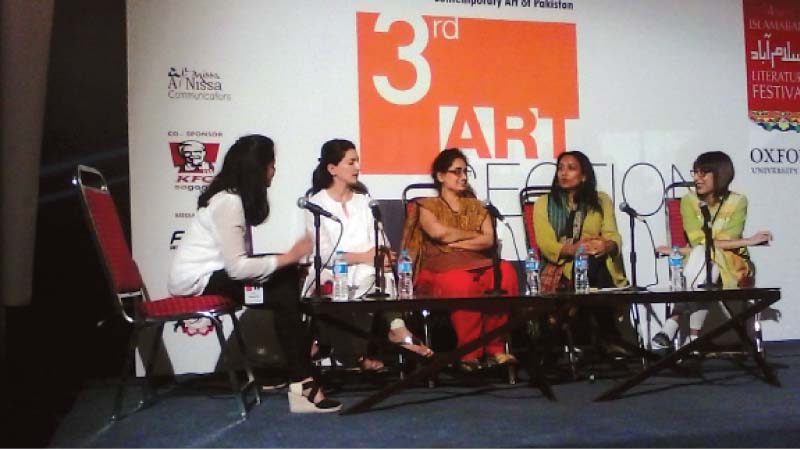 ---
ISLAMABAD: The myriad possibilities and challenges the age of social media provides the art world was the central theme of a session at the Islamabad Literature Festival on Sunday.

The session "The Art of Social Media" aimed to look at the ways social media has impacted artists and their work, including becoming a form of art itself.

Artist Rabeya Jalil, who was the panel moderator, began the session by declaring, "This is a democratic age, where every voice is heard."

Discussing social media as a form of art, Farida Batool and Nadia Batool Hussain were of the view that the social media made art interactive by constantly adding to it.

Hussain felt that art shared online takes up a life of its own, thereby becoming public property and providing the viewer with the opportunity to contribute to it.

However, Qudsia Rahim took a slightly different view that social media was a medium and a tool for artists to use rather than the end product itself.

She felt that it helped maintain archival records that was otherwise difficult in Pakistan.

Hussain also highlighted the issue of online harassment that the social media and sharing of work on social media generates.

She felt that negative feedback informed her work; and said that art should be promoted beyond its niche audience despite the opposition.

Online harassment and the fear of reactionary responses were a recurring theme throughout the session, borne out of the artists' experiences.

Saba Khan, who runs the Murree Residency and uses social media to promote their work, said that online galleries provided room for various artists to exhibit their work.

She said, however, "Physical space is still looked at as prestigious," while online galleries are viewed as democratic but less prestigious.

The panellists exhaustively discussed the difference between digital exhibition and gallery exhibitions, mentioning that the notion of interactivity on the social media broadens artists' boundaries, making them fluid.

Qudsia Rahim, about sharing her work on social media, said, "The idea of putting it out there, is not to control it."

The session ran overtime, but the audience seemed inclined to discuss the topic in its entirety.

However, a few glitches kept the crowd thin, such as the exclusion of the programme from the daily schedule; and the confusing location of the allocated hall.

Published in The Express Tribune, April 18th,  2016.
COMMENTS (1)
Comments are moderated and generally will be posted if they are on-topic and not abusive.
For more information, please see our Comments FAQ