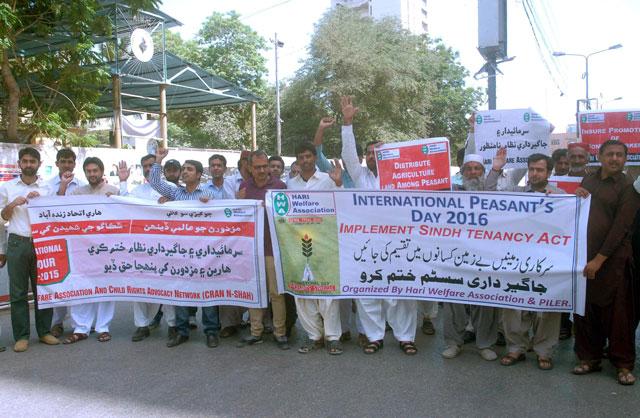 ---
KARACHI: The economies of ancient Greece and Pakistan are similar in one aspect - reliance on agriculture. The former was and the latter continues to be primarily dependent on cultivating land for revenue generation.

Though the ancient Greek civilization is no more, its 'infamous slavery system' still seems to be in place in Pakistan, albeit in a different form.

This was observed by speakers at a seminar on the state of peasants' rights at Karachi Press Club on Sunday. The event was organised by Hari Welfare Association (HWA) in collaboration with the International Labor Organization and Pakistan Institute of Labour Education and Research.

Preventive custody: Peasant leader detained ahead of scheduled convention




Speaking on the occasion, labour rights activist Saleh Biloo said in the agriculture lands of Pakistan, a modern slavery system is being practiced by the landlords.

"With each acre of cultivated land, the investor - the landlord - is becoming a millionaire, while the peasant continues to remain a peasant," he claimed.

Biloo blamed the lack of implementation of tenancy and anti-bonded labour laws in the country for the plight of farmers.

"Due to this injustice, children of peasants cannot go to school and ultimately end up like their elders," he lamented.

Most of the peasants do not own any property, they just cultivate vast tracts of land owned by feudal lords and in return only get a meal hardly enough to feed their family, explained the activist.

Quoting figures from a report, he said a scrutiny of 300 agricultural loans from banks in Sindh showed that not a single one was actually for peasants, even though landlords receive the loans under their names. "People are building Bahria towns across the country, but has anyone ever heard of a Hari town being built. This class-based practice should be stopped and everyone should be given equal status," he suggested.

Taking the dialogue forward, another social activist, Nisar Soomro, said even though feudalism died a natural death, the 'system' kept it alive.

"Traditional landlords have employed the tactic of taking political cover to protect their illegitimate practices and lands," he said.

Mentioning his encounter with a nationalist political leader who owned around 2,500 acres of agriculture land, he said the leader refused to join hands for a reforms campaign since his own land could be in danger if the laws were properly implemented.

"Similarly, Shah Mehmood Qureshi and Jehangir Khan Tareen [of Pakistan Tehreek-e-Insaf] have also moved the Supreme Court against land reforms as they both own vast agriculture and industrial estates," claimed Soomro.

Aijaz Khawaja, who recently conducted a research on peasant slavery at a London university, narrated a similar incident in which a sardar owned 5,000 acres of agriculture land. Khawaja said the sardar got a bank loan on the land and instead went abroad to set up a factory. "The land turned barren and the peasants lost their livelihood, which forced them to move to bigger cities to look for jobs," he explained.

Published in The Express Tribune, April 18th,  2016.
COMMENTS
Comments are moderated and generally will be posted if they are on-topic and not abusive.
For more information, please see our Comments FAQ